Raila: Why I Don't Want To Talk About Miguna Miguna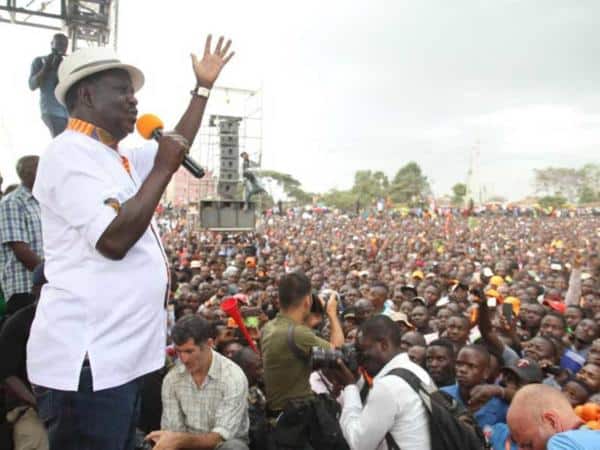 National Super Alliance (NASA) leader Raila Odinga, has termed the self-proclaimed National Resistance Movement General, Miguna Miguna, as an ungrateful and dishonest man.
In an interview with one of the national television, Odinga said he tried to save Miguna but the opinionated lawyer thwarted his efforts.
"I want you to spare me that question because you know what I tried to do for Miguna and you know how he's treated me, the kind of things he's said about me. Please, I don't want to talk about Miguna Miguna," says Odinga.
Miguna has always taken to social media to write virulent hard hitting tweets against Raila, whom he blames for not helping as he was being deported, yet he is the one who played a role in Raila's inauguration as 'the people's president' on January 30 at Uhuru Park.
In the interview, Odinga said he will continue to seek electoral reforms to end electoral injustices and also deal with the murder of the IEBC ICT director Chris Msando.
"We're dealing with issues of deaths like those of Msando and a number of our people who died during the elections," said Odinga.
He also spoke about the recent 'divorce' triggered by Bungoma Senator Moses Wetangula, who sensationally claimed he was ousted from the position of Senate Minority Leader on orders from Odinga.
"I don't want to discuss Wetangula except to say he's entitled to his views. I'm not a member of the Senate and I have no vote in the Senate but I wrote a letter stating that our leader in the House was Wetangula, I tried to save Wetangula.
"We were with honorable Kalonzo Musyoka in that meeting and I pleaded with the Senators to spare Wetangula. But all of them said the marriage has been irredeemably broken. Kalonzo and I were frustrated but there was nothing we could do," said Raila.
The opposition leader said he instructed the Nasa secretariat to write a letter to the speaker saying Wetangula is Nasa's candidate, but the speaker did his own things.
"He said the letter didn't come with minutes from the NASA summit, yet when we wrote a letter appointing Wetangula to that position, the Speaker didn't ask for minutes of the meeting of the NASA summit," says Odinga.
Raila also mentioned the whirlwind rocking his Coast base, and said the show cause letters issued to Msambweni lawmaker Suleiman Dori and his Malindi counterpart Aisha Jumwa both of whom have publicly declared their support for Ruto's 2022 presidential bid were meant to enforce party discipline.
"We don't want to put the country in a campaign mode before addressing issues that led to a crisis in 2017. That is why the party is restraining members from campaigning for 2022," he explained.
The man supporters called "Joshua" when he promised to take them to Canaan, denied claims that he is part and parcel of the government following the handshake saying if he was indeed in government as claimed then he would have a title.
"You can call me whatever you want to call me; some people call me the former Prime Minister, some people call me the People's president, some people call me the leader of NASA, the leader of ODM and so forth," said Raila.
On his inauguration and on why other NASA co principals didn't turn up, Odinga says, he was not disappointed saying that he did not hold it against the three as he was the one scheduled to take oath.
"I did not hold it against anyone who did not come, I was the one taking oath; I do not want to apportion blame on any one," said Odinga.
"Nigeria, American or Russian (phone) numbers… those are immaterial. The swearing-in date was cast on stone, every Kenyan who listens to the media knew. Half a million came to that function and they knew it would start at 10am but we eventually started at 2.30pm."
He added: "Whoever wanted to come went there, whoever did not want to did not go. So I don't want to be blamed that I was to call anyone. Those were excuses. We had agreed that we would all come but there are people who decided not to come…."
Odinga said during the meeting with Uhuru before the hand shake, they agreed with Kenyatta to have all Kenyans delivered to Canaan.
"There is no contradiction. We did not want to do this to the exclusion of other Kenyans. It would have been us versus them and this is not healthy for a multi-ethnic country. What we are doing is not in contradiction with our original stand… We want to get the entire Kenyan nation to Canaan," said Odinga, adding, "We agreed with President Kenyatta that we need to bring our two forces together and then look at these other issues dividing this country."