I was set for State House race but Moi would hear none of it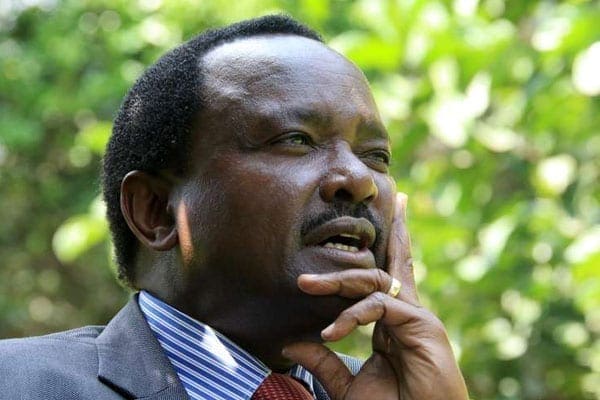 By the 1997 elections, I was ready to run for the presidency.
The only obstacle was that Moi was also in the race.
Moi was like a father to me and I could not run against him.
But as Moi's era approached its end in 2002, pressure from my friends, constituents and the media mounted steadily.
"Would he run for the presidency this time?" they would ask.
Fuelled by my determination to run, I approached Moi.
I wanted to know whether he would allow Kanu to choose its flag bearer in a democratic way.
Moi did not respond to me immediately. But a few weeks later, he publicly declared his support for Uhuru Kenyatta.
I retreated to my constituency for some time to cool down and seek solace. When I returned, Moi summoned me to State House.
I went into his office and he told me: "You know Stephen, I have been thinking over this issue. Don't bother bringing Mzee Mulu Mutisya and Kamba elders to meet Kalenjin elders, because the Kalenjin elders have decided to support Uhuru Kenyatta."
I was heart-broken and I did not respond. He told me to go and brief Mulu about his decision.
We both left State House with Moi heading to his Harambee House office while I intended to leave for Machakos to talk to Mulu.
But before starting my journey, I remember following Moi to Harambee House.
We met again within the hour. I told him: "Mr President, before I go and see your friend Mulu, allow me to say the following.
"If I am not misreading the mood in this country, Kenyans seem to be saying, if you have decided it must be a Kikuyu, then please that Kikuyu has got to be George Saitoti."
He stood up and told me: "You don't know what you are talking about." I immediately left for Machakos to see Mulu.
The two of us shared some porridge before I communicated the news. Mulu listened keenly then responded, "If he asks you whether you have brought me the information, please tell him you've already done so".
After I left Mulu, he found his own time to go and see Moi at his Nairobi Kabarnet Gardens home near Kibera.
Mulu later related to me what he told Moi: "I hear that you want to leave your seat as President. As far as I am concerned, I don't know under what law you are leaving since you are still very strong to lead.
"However, if you have decided to leave, I recommend that you leave this seat to one of two people; Nicholas Biwott or Kalonzo Musyoka."
Mulu knew that Biwott had not expressed his ambition to be president and indeed he had no intention in doing so, but in his wisdom he thought it would not look good if he said leave it to Musyoka.
He had to lump the two names together. It is not difficult to discern the wisdom behind Mulu's statement.
Moi read him the Riot Act and told him somewhat impatiently that "neither of these two people can manage the job".
So Mulu left, a deeply disappointed man. Armed with this background, my resolve hardened.
I had correctly read the mood in the country and understood that the time had come to make some very difficult decisions.
Before the exchanges and meetings with Mulu, Moi had invited me to various meetings involving elders from the Kamba, Luhya, Luo and Kalenjin communities to discuss his succession.
The meetings took place at his Kabarak farm in Nakuru.
First, he called Luo elders to meet with Kalenjin elders.
Then in came Luhya elders and Kalenjin elders and finally Kamba elders, led by Mulu.
Moi invited me to attend all these occasions. He would also invite other people such as Dr Bonaya Godana.
He never invited Uhuru Kenyatta to these meetings; at least not the ones I attended.
The Kalenjin elders vigorously resisted Moi's desire to give them a Kikuyu candidate.
I saw how the Luo elders and the Kalenjin elders behaved. I did not speak on these occasions.
I remember during the meeting with Luhya elders, J.D Otiende, who served in the first Cabinet after Kenya's independence, led the talks.
They assumed that their son, Musalia Mudavadi, would succeed Moi and of course they were wrong.
If anything, Musalia was to be embarrassed by being offered the vice-presidency at the wrong time.
I went back to Kabarak, this time with Kamba elders. We thought it was going to work.
We agreed that a smaller committee of Kamba and Kalenjin elders should meet.
These meetings took place between April and May 2002.
Most political observers were shocked by Moi's decision to nominate Uhuru Kenyatta and stand firmly by him as his preferred successor and Kanu's flag bearer in the 2002 General Election.
Towards the end of 2001, we knew Moi was going to officially pick Uhuru.
He was supposed to make the announcement after a trip to Namibia.
But I think very powerful signals went to him. I think people like Biwott and Raila Odinga who was then cooperating with Moi, cautioned him.
It was clear to me that Biwott was never for Uhuru.
Eventually, on June 30, 2002, Moi made the announcement in Mt Elgon where he thoroughly humiliated Mudavadi.
At the same time, I was announcing my candidature for the presidency on a Kanu ticket.
I just beat the deadline because after that he would have taken offence,as to why I was announcing my candidature after he had named his favourite.
Things became pretty rough for me. My links to the president were cut and my direct telephone line disconnected.
MASSIVE DEPARTURE
Knowing intimately Kanu's capacity for dirty tricks, I knew things would be difficult so I went to see Moi soon after Katana Ngala and Mudavadi had withdrawn their candidature and announced their support for Uhuru.
The meeting was tense. I told Moi: "Mzee, what I bring here before you is a heavy matter so let us pray."
We prayed together then I said, "I've come to make one request. That you consider what Kenyans are thinking.
"I've come to plead that you don't think I'm being rude since I will not withdraw in favour of Uhuru.
"We have to demonstrate that there is internal democracy in Kanu. So I am pleading that you allow me to go all the way to Kasarani. If Uhuru beats me at Kasarani, fair game, I will support him.
"After some thoughtful moments, he said, "Ok." But he added, "the only problem Stephen is that if I come to your constituency, I will have to shambulia wewe (meaning tear you to pieces)."
I told him, "No problem. You are like a father to me, come even with a stick as long as you know that I will not change my mind until after Kasarani."
Why Moi picked Uhuru to succeed him and why he stuck by him even when he should have realised that the "Uhuru project" would only work to the detriment of Kanu is still a puzzle for me.
At that time, Uhuru had little political experience.
He had lost his bid for Gatundu parliamentary seat in the 1997 elections.
Finally Raila Odinga, Joseph Kamotho, Moody Awori, George Saitoti and I left Kanu and joined the Rainbow group.
The Kamba had remained steadfast in Kanu since the days of Kenyatta. In 1992, the Kamba voted solidly for Kanu.
When Ngilu ran for presidency under the Social Democratic Party (SDP) in 1997, she literally split the vote down the middle.
Moi did not feel obliged to give a Mkamba a big post. But Mulu Mutisya clung stubbornly to the hope that Moi would look favourably upon me and the Kamba, especially given the unflinching support the community had given him.
I remember Kuria Kanyingi once went up to Mulu and said to him: "You people think Mzee Mulu is a clown, I now know that his business is to make sure that he will quit politics only after Kalonzo has become President."
Kanyingi knew Mulu's intentions. And that is why Moi's choice of Uhuru shattered Mulu.
Mulu did not condemn me when I eventually left Kanu. He told me I could count on his support.
What annoyed my colleagues and I most about Moi was his insistence on disregarding loyalty and time-tested experience in choosing his successor.
*******
Moi would have left office as a hero instead of the humiliation he had to endure at the polls and eventually during the official handover ceremony at Uhuru Park when Kibaki was sworn in as the 3rd President.
I have never understood Moi's decision to pick Uhuru. It seemed almost desperate.
We all knew at some stage in 2002 that even Mama Ngina Kenyatta, Uhuru's mother, was supporting Kibaki's bid for the presidency and Moi knew as much.
There must have been other factors compelling Moi's decision.
People might have gone to him and bad-mouthed some of us, injecting fear in him.
Those intrigues started in the period leading up to March 18, 2002, when Kanu merged with NDP at Kasarani.
At Kasarani, Moi opposed my bid for vice-chairmanship.
This baffled me because I was the only one from Kanu headquarters who supported the merger between the two parties.
Other senior officials, including Secretary-General Joseph Kamotho, and chairman Wilson Ndolo Ayah, were totally opposed to the idea.
Others like Katana Ngala and Maalim Mohammed were noncommittal.
It appeared to me that both Moi and Raila were supporting John Harun Mwau for the post of vice-chairman.
The "Boss", as Mwau is popularly known, became a big challenge, but what happened at Kasarani on March 18, 2002 was frustrating for both Raila and Moi.
Moi told me: "Prepare to meet osa vinya in Kasarani."
I was ready and indeed defeated Mwau when he failed to get a seconder after his name had been proposed.
I was convinced that in a free and fair secret ballot, I would have beaten Uhuru hands down.
People had put a lot of fear into Moi about me, Raila and Saitoti. I never really understood the basis for that fear.
AGAINST MOI'S PROJECT
Having announced my intention to vie for the presidency in 2002, I knew there would be no turning back. The mood in Kenya was such that anybody who made a retreat from their stated intention was as good as dismissed with contempt from an increasingly restless citizenry.
That was what happened to Katana Ngala and Mudavadi.
Mudavadi, Katana and Raila, all had the benefit of their fathers' names imprinted on Kenya's political history to boost their stakes.
Many pundits thought it would be easier for me, of unknown pedigree, to withdraw from the race.
Instead, I stuck to my cause tenaciously. With Moi's unpopular decision, there were many sore egos festering in Kanu waiting to find a breakthrough.
An unmistakable anti-Kanu wave sweeping through Kenya dislodged many previously die-hard members and supporters, releasing them to go their way.
In the ensuing vacuum, an unlikely collection of individuals with different shades of ideologies coalesced to form a common front against Moi's choice, Uhuru.
A widely held notion is that Raila made us break away.
The truth is everybody was carrying his or her own cross and taking the responsibility for their independent decisions.
As George Saitoti had famously said, "There comes a time when the country is more important than an individual".
We all adjudged Kenya more important than Moi's choice.
The truth is that Raila did not cause an implosion in Kanu.
Everybody went their own way and we eventually got together to defeat the project.
My greatest source of encouragement at the time was Moody Awori, the Funyula MP who later served as vice-president under Kibaki.
Uncle Moody, as he is popularly known, had been my assistant minister in the ministry of Education.
He organised a rally in Funyula and invited David Musila and myself. Moody appeared in his trade-mark shorts.
Musila spoke and said, "I can speak on behalf of Musyoka that he is not withdrawing from the presidential race".
This raised the political temperatures somewhat.
Then we started moving as a group, which we called the Rainbow Group, a name I coined after my friend, the Rev Jesse Jackson of the USA who had formed the Rainbow Coalition.
NO BACKING OUT
I thought the word "Rainbow" would reflect the various shades of opinions of Kenyans and different perceptions and diversities as we are really a rainbow country comprising different communities and nationalities.
After Mudavadi left the group, Rainbow leaders in Western Province decided that Uncle Moody should step into his shoes.
As a result, Awori's profile in the region rose.
Meanwhile, Moi continued exerting pressure to try and break my spine.
Before I officially announced my defection from Kanu, Moi confronted me in Kitui, as he had warned, while out campaigning for Uhuru.
Nevertheless, each time I waved to the crowds, they would shout back at me, urging me to hang in there, "Don't make the mistake of jumping ship. Hang in there", was the people's response.
I read the public mood accurately, knowing well that I could not change my mind at this point in time.
I had signed a document of comradeship with the Rainbow Group.
When Moi realised that things were getting out of hand, he summoned the Kanu rebels to State House on Moi Day, October 10, 2002.
1 was there with Raila Odinga, George Saitoti, Moody Awori, Uhuru Kenyatta, Nicholas Biwott and Yusuf Haji. We had not expected Haji and Biwott to be present.
When my turn to speak came, I said: "Your Excellency, you know that some of us respect you beyond the normal call of duty.
"And because of it Mzee, this being Moi Day when we should be mindful of each other's welfare, I thought we must thank you and also tell you the truth.
"We are sworn under oath to tell you the truth. Some of us take our constitutional oath very seriously.
"The truth, Sir, is that unless my friend Uhuru withdraws, Kanu is going to lose."
Moi turned to me and said, "Stephen, it is not Uhuru, it is me you people have turned against."
I responded, "Then Mzee, if it is you, may I request that with all due respect and for the sake of us all and your party that you withdraw from this thing and allow the delegates at Kasarani to choose."
That was the end of the discussion.
PRESSER
But as we left State House, the aide-de-camp informed us that we were required back.
Saitoti and I went back and found Biwott and Uhuru in the diplomatic waiting room.
I said to them, "It is good that you gentlemen are here. You did not speak but you heard my challenge.
"Listen my friend Uhuru, if you want us to save the party, please step back from this hardline position."
Uhuru said, "Stephen, I cannot do such a thing." Then I told Saitoti, "now, you have heard from the horse's mouth. Let's go."
We knew from that point on that we were on our own.
They had even begun changing the names of delegates from our home districts.
We knew they were going to throw us out of the party.
Raila, Saitoti, Moody and I decided to take a stand and make our sentiments public.
We were worried that the Presidential Press Service through its head, Lee Njiru, might be mischievous and announce to all of Kenya that we had all withdrawn our candidature in favour of Uhuru.
After the State House encounter, we went straight to Nairobi Serena Hotel and addressed the Press.
Raila, who throughout the meeting kept looking at his watch, had left in a hurry to attend a funeral in Kisumu.
While in Kisumu, he told the media, "Kalonzo has told me that even he is not withdrawing and has told Moi the truth."
STAY STONG
With that, my colleagues and I resigned from government.
We knew that going to Kasarani would be tantamount to walking into a slaughterhouse (kichinjio) as Kamotho would put it.
The pressure on me, however, neither eased nor ceased. I received many phone calls and signs from the system.
At one time Lee Njiru called me and in a threatening tone asked me why I had betrayed Moi.
I told him that I had sim­ply put the country first.
After the appointment of Mudavadi as vice-president, I called his residence to congratulate him.
Mudavadi's wife, Tessie, picked up the phone and told me: "Please, do not make the mistake of capitulating. Just hang in there."
Mrs Mudavadi's caution sealed any loopholes of doubt in my mind. There was no turning back.
The grand march had begun. I had turned my back on Baba na Mama (mother and father) Kanu, the party that built my political career.
Copyright Stephen Kalonzo Musyoka 2016
Tomorrow: How Raila plotted against me
-nation.co.ke