Duale now accuses Kofi Annan of manipulating AU elections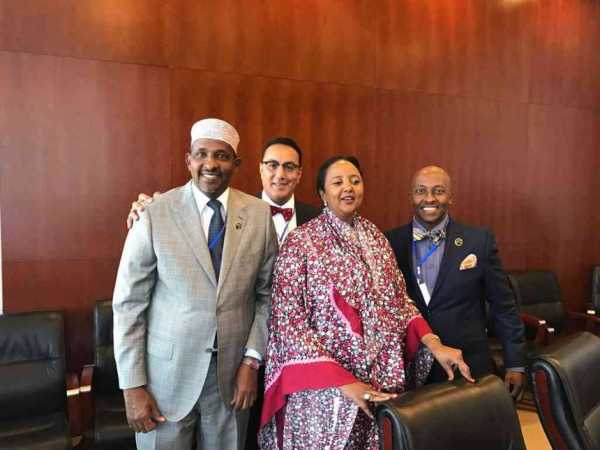 Aden Duale has accused former UN Secretary general Kofi Annan of having a hand in the outcome of the African Union Commission elections.
The National Assembly Majority leader said Annan manipulated the results that saw Foreign Affairs CS Amina Mohamed lose the AUC chairperson post to Chad's Moussa Mahamat.
He said the Kenyan delegation had every reason to believe Annan, who mediated the 2007/8 post election crisis, influenced the Monday vote.
"A number of issues which were at play. I even saw a group of activists led by Koffi Annan at the ICC discrediting our candidate," he told journalists on Tuesday.
Duale also accused France, "which is fighting to recolonise Africa", of having a hand in the outcome. He cited the fact that more than 15 heads of state abstained from the vote, showing France's influence.
He further questioned Morocco's comeback to the African Union and raised issues with Anglophone and Francophone relations.
The Star could not verify the claims by the majority leader, who spoke on Tuesday in Addis Ababa, Ethiopia, where the vote was taken.
But the Garissa Town MP dismissed claims that Amina's failure was a form of backlash to Kenya.
Duale said that though elections have dynamics, it was sad that the entire continent had thrown out "true pan-Africanism".
Regarding the East African Community, Duale noted that it was high time Kenya focused on its national interests and its citizens.
"This election has taught us huge lessons. We now know who are our true friends in East Africa and Africa at large. We are going tolook for friends who will put the interests of our people and our country first," he said.
But the public has severely criticised President Uhuru Kenyatta for issues including runaway corruption, youth unemployment, the doctors' strike that has lasted about two months, lack of water, the drought and attacks by terror group al Shabaab.
Duale said countries in the region turned their backs on Amina as Kenya's foreign policy, profiled by high-level visits, has made it an emerging power house.
He also said the President's delegation did not regret the amount of money spent lobbying for Amina's candidature.
"Every country spent money seeking support for their candidates. This budget will come to Parliament under supplementary estimates and we shall defend it," he said.
Kenya chartered a private plane for Deputy President William Ruto's pan-African campaign for Amina in a move reminiscent of the Sh100 million "Hustler Jet" scandal of 2013.
-the-star.co.ke