How Kenya will benefit from Amina's AU win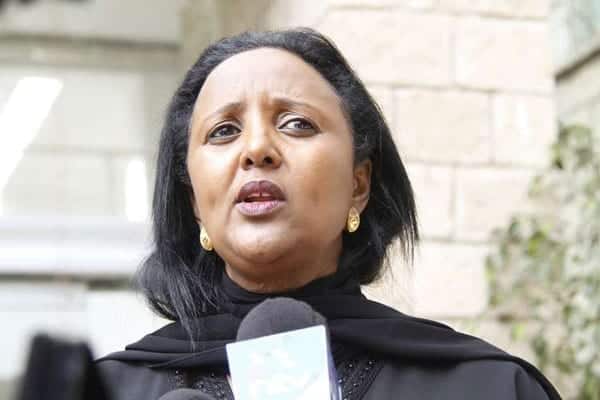 A team formed to lobby for the candidature of Foreign Cabinet Secretary Amina Mohamed to be next Chairperson of the African Union Commission says Kenya will draw more benefits from the continental bloc if she wins.
Education Cabinet Secretary Fred Matiang'i, who chaired the cabinet sub-committee says her victory will place the country on the fore front of implementing a prosperity vision for Africa.
"In today's world, the reality is that many of our challenges and opportunities cannot be addressed by individual countries," Dr Matiang'i told reporters at Harambee House on Monday.
"With an effective African Union Commission, we see Kenyans benefitting g with the rest of the continent from employment and business opportunities derived from a more integrated continent and a bigger market," he said.
It was the first time the sub-committee attempted to answer the persistent question of how Kenya will gain from her election into the continental body.
Formed just after she submitted her name in October last year, the team made of five cabinet secretaries has toured 51 African countries seeking support for Ms Mohamed.
It is closing its work this week with a tour of Guinea Bissau and Benin.
Yet they have had to defend the amount of money used in this campaign. Dr Mating'i told reporters the team has used a "very low" budget.
"We have been very frugal especially since this comes at a time where there are other pressing needs for the government," he argued, but declined to name the figure.
Africa is still not well connected and some of the sub-committee members have had to use chartered flights to make those trips.
On Monday, Dr Matiang'i was not specific about how many of those countries will support Kenya or how many of those jobs Kenya will expect, but he argued the Kenyan candidate will also bring honour and efficiency to the African Union.
"It will obviously put us in a position of leverage. We see Kenyans benefiting with the rest of the continent from better leverage to negotiate international agreements on climate change, the environment and conservation," he said.
Ms Mohamed is competing against four other candidates to chair the Commission when elections come up on Sunday in Addis Ababa, Ethiopia.
She is vying for the post against Equatorial Guinean Foreign Minister Agapito Mba Mokuy, Chad's Moussa Faki Mahamat, Senegal's Abdoulaye Bathily who is the UN representative in Central Africa Republic, and Botswana's Foreign Minister Pelonomi Venson-Moitoi.
She has campaigned on the platform to promote integration, support youth and help open up markets. Consequently, she has that she is best suited to implement Agenda 2063.
The Vision adopted in 2013 is meant to elevate Africa to prosperity by 2063 by promoting integration, boosting continental trade and ending violent conflicts.
The Agenda has five ten-year planned phases and sees projects such as the construction of high speed train networks, improved access to cheaper energy, liberalising the airspaces and opening up borders for trade as key drivers.
Its immediate target is to totally stop violence by 2020, an ambition the bloc may not achieve given the emergence of hotspots in South Sudan, Central Africa Republic, Libya and Burundi.
Africa gobbles up about Sh75 billion ($750 million) annually to finance its peacekeeping missions on the continent.
But the continental body gets most of its money from donors with EU, US, Turkey and China contributing up to 70 per cent of its annual budget.
The Chinese recently financed the construction of the African Union headquarters in Ethiopia.
-nation.co.ke/news