Meru 'James Bond': Why I hung on Raila Odinga chopper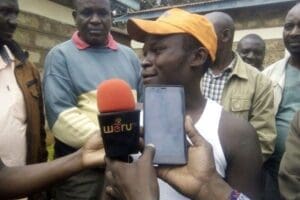 The Meru man who hung Raila Odinga's chopper after attending a rally at Maili Tatu on Thursday says he is a diehard supporter of the opposition leader.
Mr Julius Mwithalii, who is set to be charged with attempting suicide, on Friday said he wanted to go with Mr Odinga to his home and hopefully secure a job.
He jumped off the chopper when it flew low at Athimba Primary School in Igembe South before taking a boda boda to his home, about 15 kilometers from Maili Tatu grounds.
DAREDAVIL
Mr Mwithalii, who was unperturbed while speaking to the media at Maua Police Station, was arrested at Muringene on Friday morning.
He said he had prepared for the daredevil ride when he learned from radio stations that Mr Odinga would be visiting the area.
"Did I steal anyone's property," Julius Rigo posed when asked why he hung on the chopper. PHOTO | FILE | NATION MEDIA GROUP.
"I am a staunch supporter of Mr Odinga, I had vowed that he could not leave me behind," said Mr Mwithalii, who sported an ODM-branded cap.
"I knew this was an opportunity to secure a job and even a chance to go back to school."
FLY AWAY
He said he had no fear when the chopper was airborne.
"If God is with you, nothing bad can happen to you," he confidently said.
The Standard Four drop-out said his family is beset with myriad of problems and that he saw Mr Odinga's visit as a chance to escape.
"I have gone through a lot of problems and I believe Mr Odinga will come to my help," he said, adding that he was not aware that by seeking a free ride out of his trouble he was breaching the law.
He added: "Did I steal anyone's property."
MOLE HUNTER
The 28-year-old casual labourer claimed his father chopped off limbs of two of his siblings in a family row, and wanted to stay away from home.
He ekes out a catching moles in the farms, digging latrines and plucking miraa among other odd jobs.
He hopes the ODM party leader will bail him out and give him a job.
Igembe South police chief Jane Nyakeruma said investigations were ongoing before he is charged.
DUST CLOUD
She said the suspect took advantage of a cloud of dust raised by the chopper as it took off to cling on the skids.
"He was put down at Athimba Primary School after we communicated with Mr Odinga's bodyguards," Ms Nyakeruma.
She added, "There were enough police officers at the scene. Due to the dry weather, there was a lot of dust interfering with visibility."
A police source said 20 police officers had been deployed to the venue where Mr Odinga addressed thousands of residents.
MEASURES
Ms Nyakeruma said due to the emerging security concerns, politicians using choppers to rallies must use a different venue for landing.
"When politicians land on the very venue where they are addressing a rally, it becomes tricky for police to manage crowds," she said.
In meantime, Mr Mwithalii is set to be arraigned in court to answer charges of attempting suicide.
-nation.co.ke