VIDEO:DP Ruto and Gideon Moi supremacy wars intensify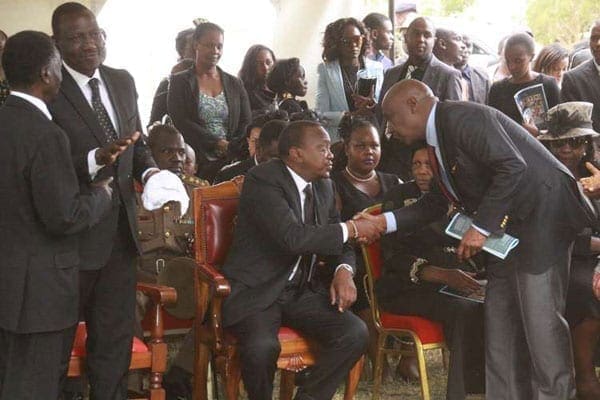 Deputy President William Ruto and his fiercest rival in the Rift Valley, Kanu chairman Gideon Moi, on Monday clashed before President Uhuru Kenyatta during the burial of former nominated MP Mark Too.
The funeral at Mark Too's Maziwa farm home in Uasin Gishu County was turned into a political contest between the two titans from the region, signalling a battle for the control of votes in the region ahead of the August election.
Mr Moi threw the first salvo, accusing Mr Ruto of pushing away those opposed to him politically by insulting them.
Mr Moi also said the DP should let President Kenyatta personally ask for the region's votes, a statement that irked Mr Ruto, who said he was still in control of the over 2.4 million votes in the region.
"No one should ever tell me that I am dividing the Kalenjins," Mr Moi said, speaking mostly in mother tongue. "If you are truly a leader of the Kalenjins, and you see people not of your view, you sit down and talk with them. You don't go abusing them."
However, it was his suggestion that Mr Ruto should let President Kenyatta campaign for his re-election in the Rift Valley in 2017 that rubbed Mr Ruto the wrong way.
"Tell the President the truth when he comes to this region. We should not just be dishing out our votes easily," said the Baringo Senator amid applause.
But Mr Ruto hit back when it was his turn to address the mourners.
"I have heard people say that I should calm down and let President Kenyatta ask for 2017 votes here, himself," he said. "In 2013, I asked for those votes and we won. Leave President Kenyatta out of this. If you have a problem, you ask me. Where were you when we were forming government, to lecture us now?"
He asked Mr Moi to support another Kalenjin "as we did your father" (retired President Daniel arap Moi).
"Moi became who he is because we all stood behind him. Please, let us ignore those leaders who are out to divide us," said Mr Ruto.
The Baringo senator insinuated that Mr Ruto should respect other leaders.
He also defended his move to seek support from opposition politicians.
"If in the Kalenjin team I am not welcome, and I go out and seek people not from Kalenjin, that is not being bad," he said. "And do not come here and tell me that if I do not come to Jubilee I will perish. No. Ask me with humility, that let us please go as one and I just might see reason."
Mr Moi told Jubilee Party aspirants who fear being given a raw deal in the nominations to join Kanu.
This did not go down well with the DP who told off the senator.
"You don't have to know the President and myself to get the party's ticket. Just go to the people," said Mr Ruto.
Uasin-Gishu Governor Jackson Mandago said Mr Ruto was the Rift Valley political kingpin and should be respected.
"Even if somebody is your age mate, the moment he is elected to a senior political office he becomes your senior," Mr Mandago told Mr Moi.
Mr Moi and other Rift Valley rebel leaders, among them Bomet governor Isaac Ruto have been traversing the region seeking support, a move seen as an attempt to weaken Mr Ruto politically.
National Assembly Majority Leader Aden Duale also urged Rift Valley residents to rally behind Mr Ruto as he was only a heartbeat away from the presidency.
"We stood with your father. It is time you also support him," he said.
However, President Kenyatta steered clear of the supremacy wars and instead asked leaders in the region to reach out to the two rivals to reconcile them.
"We want everyone in Jubilee," he said. "Leaders like Henry Kosgey and Nicholas Biwott need to bring together all leaders because I am sure the late Too would have liked Gideon and Ruto to speak with one voice."
The President narrated how Mark Too encouraged him to join politics when he was a political greenhorn in the early 1990s.
"He said if you want to create an impact in this country then you must join politics," he said. "I decided to run for the Gatundu South seat on a Kanu ticket but I was rejected because of the party. But he kept asking me to join politics. Then I asked him through which seat yet there was none that was vacant."
It was then that Mr Too proposed him for nomination. He had suggested a political seat reserved for Mombasa.
"He said I go and tell President Moi to take the seat for an MP in Mombasa. I went to Mzee and told him but Moi was angry about that proposal," said Mr Kenyatta.
Mr Too finally decided to resign, paving the way for Mr Kenyatta's entry into national politics.
"If he had not done that, may be it would have turned out differently," he said.
Dr Oburu Oginga recalled how Mr Too built political bridges between his father, Jaramogi Oginga Odinga, and retired President Moi.
"After the 1992 elections, Mark convinced Moi to talk to Jaramogi and he made arrangements to have them meet at Bondo… Mark was also instrumental in ensuring that Bondo was connected with electricity and other projects," he said.
Earlier, a court in Eldoret had allowed the burial to proceed after Mr Too's family obtained an order to inter his remains, pending a suit to stop his burial until the cause of death is established.
Mr Too's family, through lawyers Tom Ojienda and Evans Monari, had filed a case under certificate of urgency on Monday morning.
"The order to stop the burial has been vacated. The suit filed failed to give a full disclosure that a post-mortem was carried out. The family has also disowned the lawyer purporting to be talking on their behalf," said Prof Ojienda.
The case will be mentioned on Thursday.
The deputy president eulogised Mr Too as a patriot who sacrificed self for other people's comfort.
"He was a stubborn optimist. In every conflict he saw an opportunity to provide a solution. He had friends in Kings and the mighty but he was down to earth," said Mr Ruto.
Retired president Daniel Moi who send his condolence message to Mr Too's family through senator Moi said that he learnt of the veteran politician's death.
"I noticed his potential from rural simplicity to national and regional politics and I nominated him to Parliament and as an assistant minister, "said the retired president.
"He was a quick learner who learnt regional dynamics with amazing speed. His generosity and great sense of humour will be missed," added the retired president.
The junior Moi said that he last spoke with Mr Too a day to his death.
Mr Biwott had earlier urged Deputy President to avoid meddling in the regional politics and leave the politics to governors and other leaders.
Gatundu South MP Moses Kuria asked the opposition parties to withdraw court cases to ensure elections are not delayed.
"Oburu Oginga take a message to Raila that we want peaceful elections. At courts, IEBC cannot print election papers we have the cases on audit and electoral polls, please withdraw those cases," said the MP.
But Mr Oginga, said that opposition had no instruments of power maintaining that the responsibility of peaceful elections lies with the sitting president.
-nation.co.ke