Senator Omar demands Joho guns audit amid security drama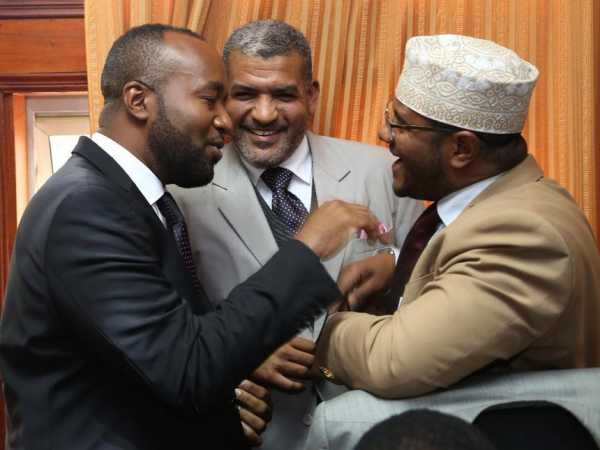 Mombasa Senator Hassan Omar has demanded an audit of firearms in Governor Hassan Joho's possession.
Omar accused Joho of employing diversionary tactics by playing the victim in his security saga, saying the Governor's security detail should be reduced.
"What is Joho afraid of? Joho has 15 guards, plus his cronies in the convoy who each have a gun. During public rallies they move around and are always trying to intimidate the public by showing off their guns," he said on Tuesday.
"The guns each have 15 bullets, which is about 450 bullets in Joho's convoy … that is an armoury… not for security," he added.
He said senators and governors are entitled to only one escort officer and four others to guard their official residences.
Omar said Joho and Kilifi Governor Amason Kingi's security should be reinstated as per the guidelines issued by the office of the IG.
He issued his remarks after a section of opposition leaders condemned the government"s withdrawal of the Governors' security detail last Friday.
The government also withdrew the security detail of Kilifi Speaker Jimmy Kahindi without a clear explanation.
Inspector General Joseph Boinnet denied that political factors motivated the withdrawal.
Boinnet, who spoke to NTV on Sunday, noted that the measure was undertaken by the Coast regional commander.
"The Joho-Kingi row is purely coincidental. We are just reorganising operations," he said. "The withdrawal was purely a Mombasa and Kilifi counties matter."
Sources said the move may have been because the two governors dressed down President Uhuru Kenyatta over projects he had launched during his tour of the Coastal region.
Joho lectured Uhuru claiming last Thursday, saying he was boasting about launching projects funded by other entities.
Uhuru, who officially opened the bridge, boasted about his government's allocation of large amounts of money to Coast counties, Mombasa in particular.
-the-star.co.ke