Uhuru Kenyatta unveils 525 police vehicles at Uhuru Park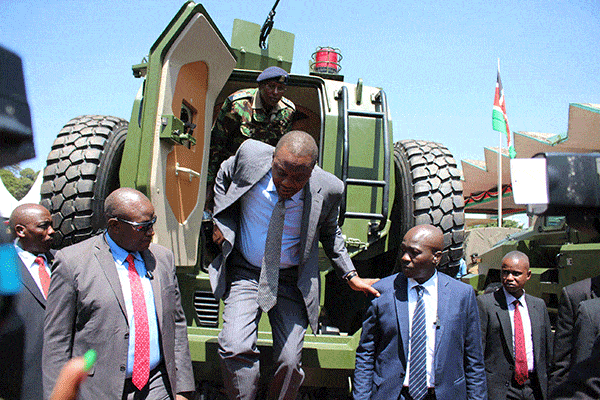 President Uhuru Kenyatta has unveiled the third batch of police vehicles and equipment acquired through the government's leasing programme.
Mr Kenyatta unveiled 525 vehicles, including 25 armoured personnel carriers, at Uhuru Park in Nairobi, as part of the government's police modernisation programme.
BAD STATE
In his speech, the President reiterated the government's commitment to improving the working conditions of police and other security officers.
"Four years ago, there were only 3,155 vehicles which were in a bad state of repair and this lack of effective means of transport hampered effectiveness of the National Police Service in combating terrorism and organised crime," he said.
President Kenyatta is shown how one of the armoured personnel carriers works at Uhuru Park, Nairobi, on January 16, 2017. PHOTO | DENNIS ONSONGO | NATION MEDIA GROUP
"During the first and second phases of the leasing programme, we launched 1,200 and 1,020 assorted vehicles respectively, and with the launch of 500 vehicles, we now have 2,720."
The move is aimed at improving police mobility by providing vehicles, among other modes of transport, as they step up their fight against terrorism and organised crime.
Some of the vehicles were leased from General Motors East Africa, which will be responsible for servicing and maintaining them.
The fight against crime by use of air surveillance, Mr Kenyatta said, had also been improved following the procurement of additional helicopters and the repair of those that had broken down.
"In 2013, the country had only one serviceable helicopter and at the moment we have three that are helping our security forces in the fight against crime. We also expect to have two more and bring the number to seven by July this year," he said.
One of the armoured personnel carriers Mr Kenyatta unveiled on January 16, 2017 at Uhuru Park, Nairobi. PHOTO | DENNIS ONSONGO | NATION MEDIA GROUP
The President also said that the country had done a lot in increasing the number of police officers through recruitment, adding that Kenya was almost attaining the United Nations recommended ratio of one police officer for every 450 civilians.
He praised Kenyan security forces for their efforts in the fight against terrorism, which he said, had reduced drastically, thanks to strategic counterterrorism efforts, including intelligence sharing and cooperation.
Since 2013, the government has been leasing vehicles in a move aimed at cutting costs.
In attendance were Internal Security Cabinet Secretary Joseph Nkaissery, Directorate of Criminal Investigations boss Ndegwa Muhoro and National Police Service Commission chairman Johnstone Kavuludi, among other leaders.
-nation.co.ke