VIDEO:Lawyer who sought to stop Mark Too burial goes missing
Eldoret-based lawyer Simon Lilan has gone missing, days after attempting to stop the burial of former nominated MP Mark Too.
Mr Too was buried at his Maziwa Farm in Uasin Gishu County on Monday.
Mr Lilan's elder brother John Talam has said the family had not seen him since Monday.
"I want to bring to the attention of the nation that my brother Simon Lilan, who is an advocate of the High Court, has been missing since Monday January 9, 2017," said Mr Talam.
Addressing journalists in Eldoret Town, Mr Talam said his last encounter with the lawyer was in the town on Monday morning when he left him in his car.
"I was with him on Monday near the Eldoret fire [station]. He told me he wanted to go and look for some funds so that we [could] proceed to Ziwa for a political rally. Unfortunately, I waited until 4pm but he never came back," said Mr Talam.
Mr Lilan is seeking the Uasin Gishu County senatorial seat in the August elections.
Mr Talam said he had tried to call Mr Lilan several times but his brother's phone had been switched off.
"I tried calling him severally but his phone was switched off and that is when I realised that something was amiss. I went to his home and reported the matter to his wife," added Mr Talam.
Mr Talam, who is Mr Lilan's driver, said his brother had indicated his life was in danger.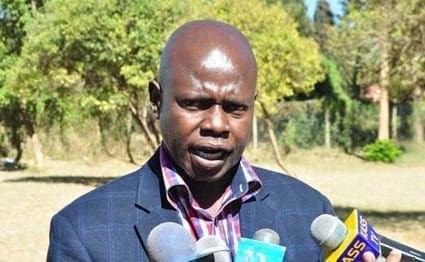 Eldoret-based lawyer Simon Lilan speaking to journalists on January 9, 2017. His family says he has now gone missing. PHOTO | DENNIS LUBANGA | NATION MEDIA GROUP
"My brother Lilan recently told me that some people have been calling him seeking a meeting with him and he had expressed [that his life was in danger].
"Now as a family we are worried [about] what might have happened to him because it is three days and we don't know [of] his whereabouts," said a frustrated Mr Talam.
He said he reported the matter to the Eldoret Police Station, where the case was recorded under Occurrence Book number 120/9/1/2017-2025 hours.
He said police had told him they would search for the lawyer.
"I have been trying to call him, all his colleagues have been trying to call him, even those who have been helping him in politics have been trying to call him but we have not been able to find him and this is a very big worry to us," explained Mr Talam.
Speaking to journalists on Monday, Mr Lilan claimed that his life was in danger, saying some powerful people wanted to eliminate him after he claimed that Mr Too was assassinated.
He called on the government to provide him with enough security.
Mr Lilan had claimed Mr Too was assassinated and wanted the actual cause of his death established before he could be buried.
In a sworn affidavit, Mr Lilan claimed Mr Too was murdered and that there were external forces seeking to conceal the cause of his death.
-nation.co.ke