Waititu seeks Sh50 million from Kabogo after winning degree case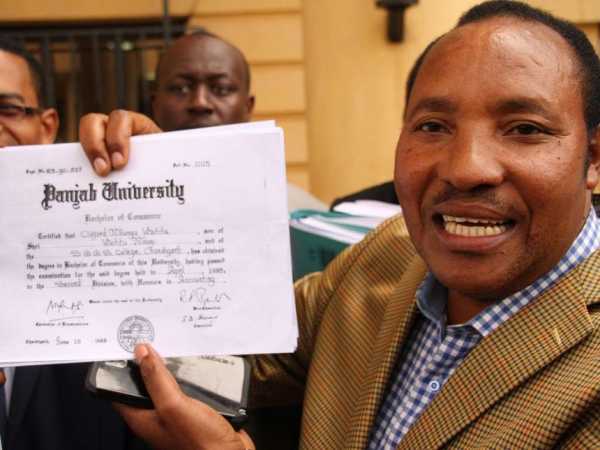 Kabete MP Ferdinand Waititu has slapped a Sh50 million legal fee on his political archrival Kiambu Governor William Kabogo.
The fee arose from a suit Kabogo had filed, questioning the Panjab University degree that Waititu holds.
Waititu won the suit last December after a court ruled that it lacked jurisdiction to meddle in the dispute.
The MP has now filed a bill of costs and is seeking an order compelling Kabogo to offset the Sh50,960,422 he accrued from March 14, 2016 to date.
"[The claim considers that] the case was of great public interest, the length of time involved and the nature of the proceedings, including the fact that Kabogo had pegged the value of the claim by affidavit evidence as being a grave constitutional violation, which escalated thereafter," Waititu says.
The MP's court document says the amount sums up the total incurred from the moment he instructed lawyer Harrison Kinyanjui to represent him in the suit.
Kinyanjui wants the court to consider "the amount of work he devoted to the proceedings and the time he consumed researching and doing follow ups".
Kabogo, in his bid to bar Waititu from contesting in the August 8 general election, challenged his integrity and academic qualifications.
The Governor also accused Waititu of identity theft. He alleged that Waititu was using another person's academic papers and did not have any post-primary school education, let alone a degree from the university in India.
He wanted the court to declare him unfit to run for public office.
But High Court Judge Joseph Onguto dismissed Kabogo's application setting the stage for a titanic battle between the two, who will both vie for the Kiambu county chief post.
In the judgment in December, Onguto was of the view that other organisations, including the IEBC and the EACC, have been given the mandate to determine such issues.
The sensational case took a turn in April when Knec filed a document in court claiming a result slip Kabogo filed in court was forged.
A few weeks later, Kabogo filed more documents from Panjab that suggested Waititu did not pursue any court there.
Waititu dismissed the claims saying he went to the University but used the name Clifford Ndung'u as listed in the documents.
-the-star.co.ke