Why Mama Ngina Kenyatta met Mzee Daniel Arap Moi

Why Mama Ngina Kenyatta met Mzee Daniel Arap Moi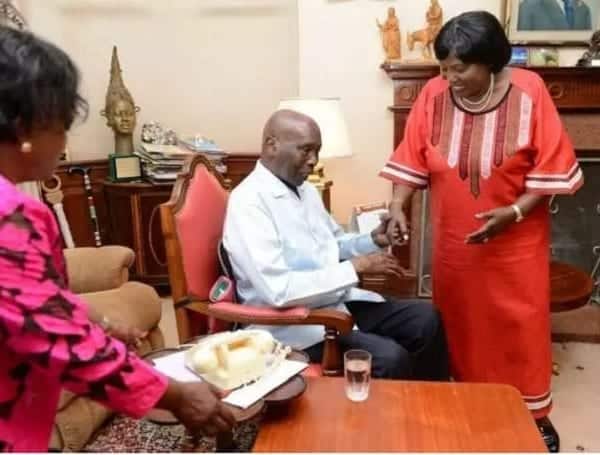 A visit by President Uhuru Kenyatta's mother, Mama Ngina, to retired President Daniel arap Moi may have been more political than spokespeople for either side admitted.
The Saturday meeting came to light through leaked photos of the two after they had lunch at Moi's Kabarak home in Nakuru county.
Mama Ngina said that she visited Moi to check up on a friend and Moi asked her to visit again in the near future.
"I am here to check on you as a friend," she said.
Moi said he was happy to meet with Mama Ngina Kenyatta, adding that the friendship between the two families is growing stronger.
With neither of the sides willing to give official details of the meeting, it is believed that the two may have talked about the political future of the country ahead of the August 8 election.
The Star is made to understand that the two discussed how their two sons – Uhuru and Baringo Senator Gideon Moi – can work together more closely.
Uhuru and Gideon share a longtime friendship just like their two families and even went to school (at St Mary's School Nairobi) at the same time.
Following the meeting, Kanu will be encouraged to renew its election pact signed in 2013 with Uhuru's Jubilee and support the President's reelection bid, but can field candidates in other tiers (Senate, MPs, Woman Rep and MCAs) in August.
In the proposed deal, Uhuru's Jubilee Party will keep off Gideon's Baringo Senate seat and will therefore not field a candidate there.
In addition, Kanu will be expected to work with Jubilee in Parliament and Gideon will also get slots to propose appointees as Principal Secretaries.
"Gideon and Uhuru will most likely work together this year and towards the future. The meeting by their parents has helped consolidate this desire by their allies," a senior Jubilee official who was unwilling to be named said.
Moi is said to still hold a strong influence on his son's political decisions, making the meeting with Uhuru's mother very significant as the country prepares for the election.
The same is said of Mama Ngina, who has influenced key political decisions by Uhuru, to protect the interests of the Kenyatta family.
Last month, Uhuru called Gideon, seeking to have him work with Jubilee instead of Kanu joining the massed opposition under proposed National Super Alliance of ANC leader Musalia Mudavadi.
The meeting also came just days after Kanu held a meeting and decided to make an announcement in two weeks to decide on who to support for the Presidency.
Kanu has decided to field candidates in all elective positions across the country except for President.
The Saturday meeting also comes at a time when Deputy President William Ruto and Gideon are fighting for control of the Rift Valley vote bloc.
"The DP is an individual and I'm focussed on building a united and a prosperous nation. Kanu is working to serve the interests of Kenyans, not individuals. We will announce our way forward in two weeks," Gideon said after his party met last week.
Ruto's dealings with Gideon are perceived as being too confrontational and not helping bridge the relationship between Kanu and Jubilee.
Last year, Ruto hosted Baringo MCAs in Nairobi as he moved to plan on how to tame Gideon's influence in the Rift Valley.
On Saturday, Ruto was in Gideon's backyard of Baringo, where he told off the opposition and other parties that are not part of Jubilee Party.
In a veiled attack on Gideon, the DP told Baringo residents to reject other political parties and only elect JP candidates.
"I want you to vote for Jubilee in all seats available. Will you vote a Jubilee senator? I want to be sure that you will give me a Jubilee senator," Ruto said.
Kanu has a post-election agreement with Uhuru's Jubilee but one of Gideon's key allies, the party's secretary general, Nick Salat, has been attending key opposition meetings.
On January 11, at the Bomas of Kenya, Salat declared that the former ruling party was firmly in the opposition and would be party to the proposed NASA.
"Mimi kama katibu mkuu wa Kanu nawahakikishia kwamba tuko ndani kabisaa (As the secretary general of Kanu I want to assure you that we are fully part of NASA," he said.
But two members of the Kanu national executive council, John Lonyangapuo (the senator from West Pokot) and Zipporah Kittony (nominated senator) promptly disowned the declaration by Salat.
The Kenyatta and Moi families have had a lot of history – both at a family level and in national politics.
Uhuru's father, Jomo, was Kenya's first President and Moi was his third Vice-President for 11 years before taking over as President in 1978.
Moi mentored Uhuru into politics when he nominated him to Parliament IN 2001, appointed him to Cabinet and later endorsed him as his successor in 2002.
Gideon was Uhuru's vice-chairman when the President was Kanu chairman and took over the leadership of the party when TNA was formed just ahead of the 2013 election.
The meeting between Moi and Mama Ngina is the latest and strongest signal Uhuru and Jubilee Party are uneasy with the resurgent opposition alliance coalescing around Mudavadi and ODM-Cord leader Raila Odinga.
The phone call in December by Uhuru is said to have influenced Gideon's decision to back away from an offer to enter into a deal with Mudavadi, who is spearheading NASA's formation.
Being sons of the main political presidential dynasties, Uhuru and Gideon are likely to work together under the influence of their families and their political interests.
************************
Mama Ngina was born Ngina Muhoho in 1933, daughter of Chief Muhoho wa Gathecha, in Kiambu District, Central Province.
In 1951, at age 18, Ngina was married by Jomo Kenyatta, who was 61, as his fourth wife.
When Kenya gained Independence in 1963, she started being referred to as Mama wa Taifa (Mother of the Nation), hence her name became Mama Ngina Kenyatta.
Mama Ngina bore Kenyatta four children – Kristina Wambui (1952), Uhuru Kenyatta (1961), Anna Nyokabi Kenyatta (1963) and Muhoho Kenyatta (1964).
She often accompanied Jomo in public, and had some streets in Nairobi and Mombasa, as well as a children's home, named after her.
Mama Ngina became a Roman Catholic, and was known to attend Mass every Sunday with some of their children.
She also became one of the richest individuals in Kenya, owning plantations, real estate, hotels, banks, milk manufacturing plants, and media.
During Jomo Kenyatta's period in restriction at Lodwar and Maralal (following the end of his prison term), Ngina stayed with him, as did their daughters, Jane and Wambui.
Mama Ngina is a step-mother to Kenyatta's other three children, two by his first wife (Grace Wahu) and one by the second, the Briton Edna Clarke.
She was arrested soon after her husband was taken to Kapenguria by the British colonialists, and incarcerated at the Kamiti Maximum Prison.
When she went back to her home in Gatundu, she found that her house had been demolished.
She became a farmer, planting maize, beans and potatoes on her farm and selling them at the market in Gatundu just like any other rural woman.
Mama Ngina has rarely talked to the media and has only been in seen in public in matters relating to her family.
She is however said to have a great deal of influence on President Uhuru Kenyatta's political life.
Why Mama Ngina Kenyatta met Mzee Daniel Arap Moi