Woman in Mark Too burial dispute collapses at JKIA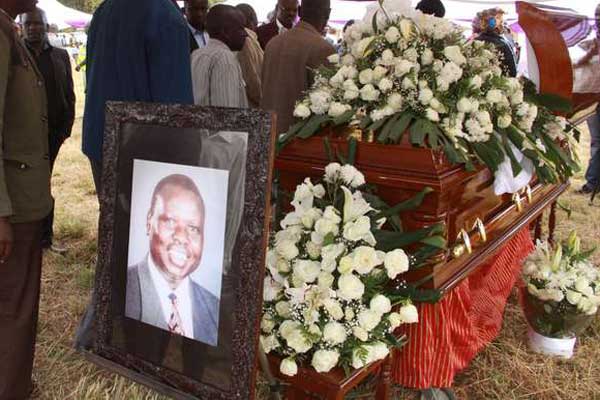 A woman who attempted to stop the burial of former nominated MP Mark Too was rushed to hospital early Monday morning after she collapsed at Jomo Kenyatta International Airport.
Fatuma Ramadhan was heading to the burial in Eldoret along with her teenage son and their lawyer Danstan Omari.
"We had checked in at around 6.30am and were waiting to board a plane. While seated and waiting to be served coffee, she just collapsed.
"Medical personnel from the Port Health took her into an ambulance to Guru Nanak Hospital," Mr Omari said.
He said Ms Ramadhan had been stabilised at the hospital and the family had requested a CT scan to ascertain the reason for her collapse.
The lawyer said Ms Ramadhan had not exhibited any signs of stress and had been in high spirits.
"She and Mr Too's family had amicably [resolved] most of the issues they had and the family even paid for the ticket to Eldoret," Mr Omari said.
He said they would not be attending the burial as they had hoped to, because of her sickness.
Ms Ramadhan had filed a case to stop Mr Too's burial saying he was the father of her son, who she claimed had been excluded from participating in the burial.
But she later withdrew the case after Mr Too's family agreed to include her son in the burial arrangements.
Her lawyer said Mr Too's family had promised to address other issues concerning the child's upkeep and the distribution of the deceased's estate.
Ms Ramadhan and her son attended Mr Too's funeral service at AIC Milimani on Friday.
Mr Too, who died on New Year's Eve due to heart complications, is set to be buried on Monday at his Maziwa Farm in Kapseret, Uasin Gishu County.
-nation.co.ke