Armed youths cut short Raila Odinga rally in Turkana East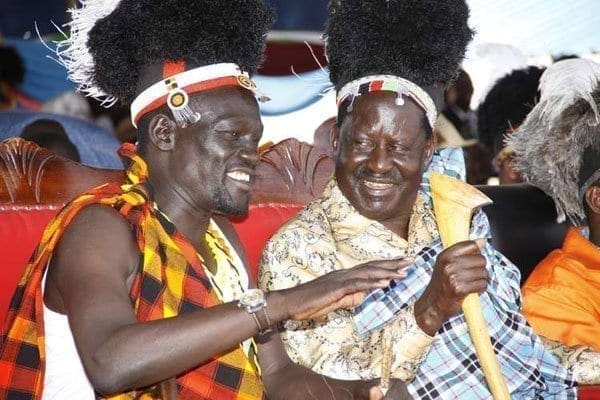 Armed youths disrupted opposition leader Raila Odinga's rally in Turkana East on Friday, forcing him to flee without addressing residents.
Mr Odinga, who was accompanied by Turkana Governor Josephat Nanok, flew to another rally in Lokichar in Turkana South, where they both addressed gathering without any incident.
3-DAY TOUR
The ODM leader is in the county on a three-day tour to popularise the new National Super Alliance (Nasa) and urge residents to register as voters in large numbers so they can help the new coalition rise to power in August.
However, Mr Odinga's visit started on a violent note as the youths, armed with crude weapons, disrupted his rally at Katilia Centre in Turkana East on Friday mid-morning.
They forced the organisers to cut short the meeting and Mr Odinga and Mr Nanok flew to Lokichar, where they pushed Nasa's agenda.
"We have been told that one MP incited youths to come to our meeting and disrupt it. We did not even have a chance to address the rally as stones were thrown at us. We also heard gunshots and we left to our next point, which was Lokichar," Mr Nanok said.
STONES
Speaking in Lokichar, Mr Odinga said it was wrong for leaders to incite youths to violence.
"The MP told some of the youths to carry stones and firearms to our rally and target Raila Odinga," he said.
"The police fired in the air to confront the rowdy youth. The people he is inciting are the same people he is seeking votes from. He could have just told them not to attend the rally."
Both Jubilee and Cord/Nasa leaders have received hostile reception in areas where their popularity is declining and support has shifted.
BLOW
Last month, Mr Odinga suffered a similar blow in Changamwe, Mombasa, when rowdy youths disrupted his rally while in the company of Mombasa Governor Hassan Ali Joho.
The attacks in Changamwe and Turkana East came as a surprise to political pundits, who perceive Mombasa and Turkana counties as some of Mr Odinga's strongholds.
Jubilee rallies were hit when youths blocked Deputy President William Ruto and Governor Ken Lusaka from entering Bungoma town in January.
Mr Ruto's rally was also cut short in Narok after he was received and hosted by local leaders facing resistance on the ground.
Source link-nation.co.ke