DP Ruto says police aiding drug barons to face the law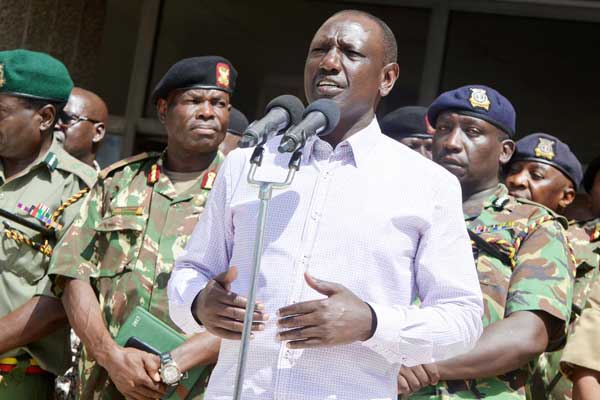 Deputy President William Ruto has given the clearest indication that powerful individuals linked to drug trafficking are on the radar of security agencies.
He said police officers especially from the Coast, who have been compromised by drug barons have been subjected to internal disciplinary action while others are still under investigations.
Briefing journalists in Mombasa after meeting top security officers in the region, Mr Ruto warned that the renewed war on drug trafficking would not spare anyone, irrespective of their standing in the society.
"It does not matter who they are, it does not matter how much money they have, it does not matter how much influence they think they have, it does matter how much political clout they claim to have.
"We are firm in our resolve and we will deal with them firmly and conclusively,'' he said at the Uhuru na Kazi Building, which houses the offices of Coast Regional Coordinator Nelson Marwa.
The DP spoke of a rejuvenated effort on the fight against drug trafficking by local and international security agencies, who he said will stop at nothing to arrest and prosecute key suspected drug barons.
"We now have found the link and the coordination that is giving us better results in dealing with matters on drugs.
"The combined efforts of our security personnel and other partners including the US and others has given new impetus and leverage on dealing with this menace," said the DP.
Mr Ruto was flanked by Mr Marwa, Coast police boss Phillip Tuimur, county commissioner Evans Achoki and members of the county's security committee.
What makes the fight against drugs even more urgent, said Mr Ruto, is that money from the illicit trade is used to fund terrorism.
"It is a war that one feeds into another. Drug money is being used to finance terrorism and they are twin wars that we must win,'' he added, saying that Kenya would no longer be a safe haven for drug lords.
"Those engaged in this business have already been given notice that the end has come, that there is no more space, there is no more room, there is no more time for them to engage in that trade," he cautioned.
Mr Ruto said he had discussed with the officers how to enhance security at key government installations such as the port of Mombasa, which has been notorious for theft of goods.
He said the port is crucial to the country and region and that there would be continuous monitoring to ensure containers do not get lost.
On the drought facing parts of the country, Mr Ruto said the government has not imported maize to feed starving Kenyans.
"All the food items that we are currently distributing all over the country is bought from local producers," he said.
Assorted food items will be distributed to the hardest-hit areas and the government would ensure that the items reach the targeted beneficiaries.
"We will ensure that we do not get reports of any Kenyan dying because of hunger or because of lack of food," said Mr Ruto, who is on the fourth day of a voter registration drive in five counties at the coast.
After the press briefing, the Deputy President addressed a meeting of Jubilee leaders and aspirants for various seats at the Wild Waters in Nyali.
The Deputy President is later expected to head to Kaloleni in Kilifi County where he will address local political leaders before heading to Voi in Taita-Taveta for similar meetings and a public rally.
On Tuesday, the DP is expected to issue title deeds to locals at Ziwani in Taveta after which he will address two public rallies in Taveta town and Wudanyi before heading to Makueni and Machakos counties.
-nation.co.ke