DP William Ruto allies read mischief in Kanu's support for Uhuru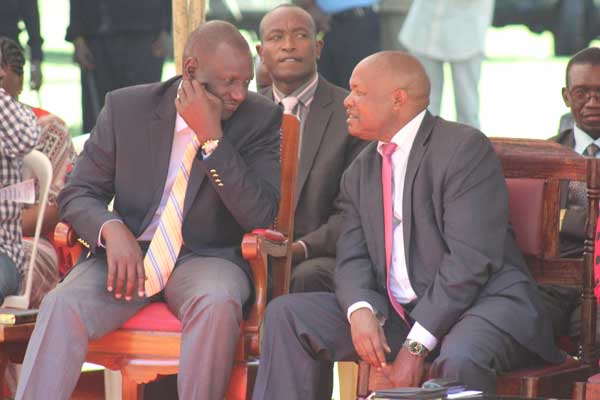 Allies of Deputy President William Ruto have accused Kanu of being insincere in its decision to support the re-election of President Uhuru Kenyatta.
Addressing a meeting attended by DP Ruto at the AIC Church in Kericho Town, Kericho Senator Aaron Cheruiyot and several local MPs accused Kanu leader Gideon Moi of trying to "re-organise" the leadership of the Jubilee Party.
Mr Cheruiyot said support for President Kenyatta's re-election should be an excuse to belittle Mr Ruto.
He said the Kalenjin community would continue to support the Deputy President as the second in command in the ruling coalition.
"We invite everyone to Jubilee but when you go into someone's house you do not try to take charge and reorganize things. Kanu has claimed that it supports President Kenyatta but not the DP and that is very fishy.
"If someone tells you he loves your father but hates your mother, be wary of such a person because he is not your friend," said Mr Cheruiyot.
MPs Benjamin Langat (Ainamoi), Leonard Sang (Bureti), Jackson Rop (Kipkelion West), Joseph Limo (Kipkelion East) Justice Kemei (Sigowet/Soin) and Woman Representative Hellen Chepkwony said Jubilee is strong in the South Rift.
Kericho Governor Paul Chepkwony said Jubilee had brought development to the country across all sectors and called on Kenyans to give President Kenyatta and his Deputy DP Ruto a second term in office.
Prof Chepkwony, who is running for a second term in office, called on Mr Ruto and the Jubilee Party leadership to do whatever will be necessary to ensure that the party nominations slated for next month will be free, fair and transparent.
Energy Cabinet Secretary Charles Keter said Jubilee is the party to beat in the South Rift, adding that no other parties could match the strength of the party in the region.
"I am telling you (DP Ruto) that the people of Kericho and the South Rift region are behind you and the president one hundred per cent. Anyone looking for a reason to support Jubilee should be thankful for the peace that the government has brought on this country," said Mr Keter.
The leaders further accused Kanu of undermining efforts to restore peace in Baringo and West Pokot after its leaders said only President Kenyatta could offer solutions to the violence and told Mr Ruto to keep off the areas.
The Deputy President however, did not comment on Kanu's move to back President Kenyatta and instead said he is confident that Jubilee would win this year's elections.
"We are going to the election armed with our scorecard and our performance record which we are very proud of and we are going to face the electorate knowing very well that our scorecard speaks for itself and we have delivered on most of our pledges," he said.
He said the Jubilee government is keen to ensure that this year's election is held peacefully and warned that the security agencies would not hesitate to deal ruthlessly with any politician found engaging in hate-speech.
He said every politician has the moral responsibility to ensure that any word they utter enhances unity.
"We have a duty individually and collectively to ensure that the next election will be free, fair and peaceful. The government will ensure that this happens by all means necessary. All aspirants must make this their business as well because we do not want violence," he added.
He also sought to assure Jubilee aspirants that there were no preferred candidates and that party nominations will be free and fair.
"We will obey the will of the people and everyone will have an equal right. We will stand with whoever our voters choose," said Mr Ruto.
-nation.co.ke