Kisii Jubilee leaders say Ongeri ungrateful after he defects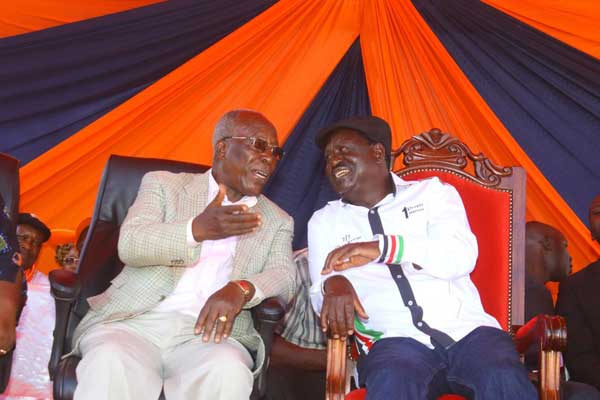 Supporters of the Jubilee Party in Kisii, led by lawyer Charles Nyachae, have accused former Cabinet minister Sam Ongeri of betraying the government that had appointed him as ambassador to UN-Habitat.
Prof Ongeri, who has been the Jubilee point man in the region, on Monday defected to the Orange Democratic Movement (ODM)
ODM leader Raila Odinga and Amani National Congress leader Musalia Mudavadi welcomed Prof Ongeri at a well-attended rally in Kisii Town.
Mr Nyachae and Prof Ongeri are set to lock horns for the Kisii senatorial seat, currently held by Chris Obure, who recently ditched ODM for the Jubilee Party, on whose ticket he wants to run for Kisii governor.
"It is so shameful for Prof Ongeri at his advanced age to defect to ODM. We wish him all the best as he goes into retirement," Mr Nyachae said during a prayer rally for Jubilee candidates in Magenche, Bomachoge Borabu constituency.
During the meeting, Senator Obure and his running mate Albert Nyaundi launched their campaign for the governorship.
Mr Nyachae urged the former ambassador to retire from politics.
"Ongeri follows my father (Simeon Nyachae) closely in terms of age. He is older than Obure and thus should retire from active politics as my father did 10 years ago," the lawyer said.
Following his defection to ODM, Prof Ongeri has teamed up with Kisii Governor James Ongwae and nominated Senator Janet Ong'era, who is running for woman representative under the National Super Alliance.
Prof Ongeri promised to remain loyal to his new party and said he will work with Governor Ongwae to develop the region.
"Just as it took me time to get [into ODM], it will be next to impossible to get me out. I will work closely with the governor to spearhead an agenda to develop the county equitably," said Prof Ongeri.
But Mr Nyachae urged Kisii residents to elect Mr Obure as governor, saying Nasa is a losing team.
"I am confident that President Uhuru Kenyatta together with his deputy William Ruto will be re-elected in the coming polls with a landslide," Mr Nyachae said.
For his part, Senator Obure challenged Governor Ongwae to account for the billions of shillings the county has received in the past four years.
"The county government has received billions of shillings since he (Ongwae) took office, but we are yet to see completed projects.
"Mr Ongwae must account for the money his administration was allocated because we cannot see the development projects on the ground," Senator Obure said.
"I will ensure that my government properly uses our taxpayers' money and accounts for it, something that Governor Ongwae has failed to do," said the senator.
Bomachoge Chache MP Simon Ogari, who was elected to the seat on an ODM ticket in the 2013 elections, announced his defection to the Jubilee Party.
"I want to declare here today that I have officially joined Jubilee because the opposition has nothing good to offer my people," Mr Ogari said.
Mr Ogari and fellow MPs Richard Tong'i (Nyaribari Chache), Zebedeo Opore (Bonchari) and Elijah Moindi (Nyaribari Masaba) said they are determined to campaign for the Jubilee Party.
They also urged residents to elect Senator Obure as the next governor, saying he has the experience needed to lead the county to the next level.
 Source link-nation.co.ke