President Uhuru Kenyatta dines at Nyama choma joint in Nakuru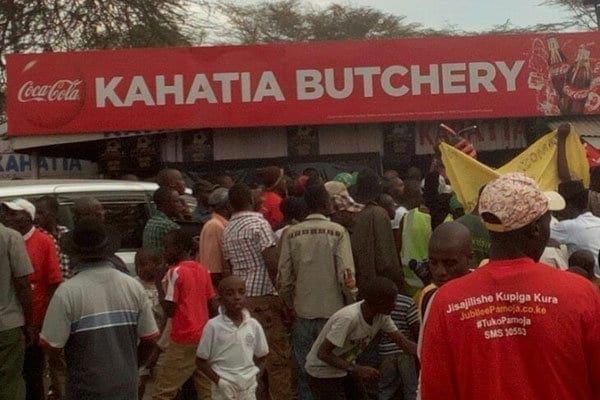 It was another normal day at work for Mr Paul Maina and his wife Grace Mwangi until the president walked into their joint at Kikopey, on the busy Nakuru-Nairobi highway to eat nyama choma.
Mr Maina had reported to work at 8 am armed with a selfie stick, anticipating a chance for a selfie moment with the president.
Little did he know he would have him as a guest and even have a complete photo session.
This is where travellers stop over to enjoy a meal of the mouthwatering roasted meat.
Among those that picked Kahatia butchery for their 'nyam chom' on Saturday was President Uhuru Kenyatta who was on a voter registration campaign in Nakuru County.
The president had begun his day's journey at Salgaa before proceeding to Mukinyai, Kibunja, Total, Mau Summit, Molo, Turi, Elburgon, Njoro and Nakuru Town where he addressed roadside rallies.
At Kikopey, he had addressed a crowd that had milled around him, urging them to take their voter's cards and to vote him in one last time, before announcing that he was stopping over for a nyama choma bite as well.
"Haiya, acha niingie ndani nile nyama choma, (let me go in to eat nyama choma)" the president said before alighting from his vehicle and proceeding to the butchery.
For the 15 years he has operated the business, Mr Maina has received and served many high profile guests, including Deputy President William Ruto who decided to layover while campaigning before the 2013 General Election.
He has also served many members of Parliament, he told Nation.
But he had never imagined that the president would be one of his guests, even though it was one of his silent prayers.
"I had told myself I must serve him some day," he said.
And even when it finally happened, it seemed like a dream. "It is just unbelievable. I feel like I have been born again, or waking up and finding millions at the gate," he said.
The president and his company were ushered into a small dining area where they were served roasted goat meat and ugali.
The president also had a bottle of water while his company has a soda. They paid for their meal that lasted about 25 minutes.
According to Mr Maina, a team from the presidential escort had made an advance inspection visit to the joint immediately his entourage had arrived at Kikopey before informing them that he would be coming in for a meal.
"We thought it was a joke and just hanged around. But we could not believe it when he said he was stopping over."
"I even greeted the president," his elated wife added.
The president took photos with his entourage.
Immediately after he left, a crowd thronged the joint and jostled to sit for turns to sit on the seat Mr Kenyatta ha sat on.
The president then proceeded to Gilgil and Naivasha where he addressed locals.
Source link-nation.co.ke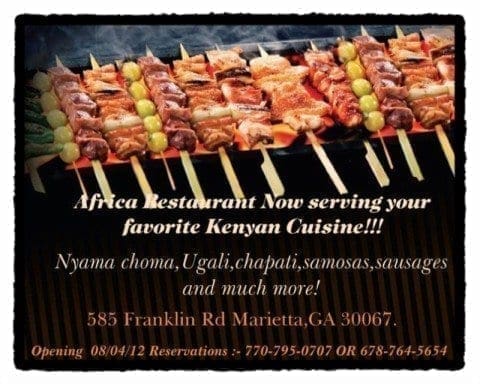 Jamuhuri Kitchen in Marietta Georgia opens this coming Saturday on 4th August.Now available nyama choma,ugali and sukuma-wiki.All are welcome!
President Uhuru Kenyatta dines at Nyama choma joint in Nakuru