Raila laughs off Jubilee classification of swing counties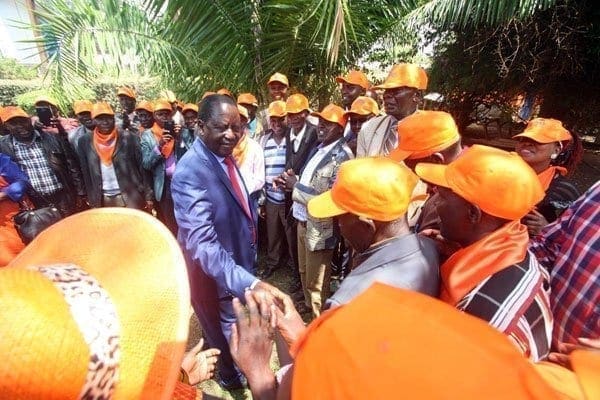 Orange Democratic Movement (ODM) leader Raila Odinga on Thursday laughed off the Jubilee Party's classification of six counties with a total of 2.1 million votes as swing areas in this year's General Election.
Mr Odinga said that Kisii, Nyamira, Trans Nzoia, Turkana, Narok and Kajiado were fully behind the Opposition in the August polls, which he has repeatedly termed Kenya's highest-stakes election.
Last week, President Uhuru Kenyatta's Jubilee Party classified 17 counties, mostly in Rift Valley and central Kenya, as pro-ruling party and 17 as pro–National Super Alliance (Nasa) and defining 13 as the battle zones in the August 8 polls.
But on Thursday, Mr Odinga warned Jubilee that a surprise of their lives awaits them in the election.
"I saw the other day on the newspaper that Kajiado, Narok, Turkana, Kisii, Nyamira and even Trans Nzoia are battle zones. What battle zones? Those are formidable ODM-Nasa zones and we have those numbers," Mr Odinga said at the party's headquarters Orange House in Nairobi on Thursday.
Using Jubilee's classification, the ruling party had, assuming a 100 per cent turnout and 100 per cent vote from their 17 zones, 7.4 million votes while Nasa had 7.04 million.
With Mr Odinga's new claim of the six counties, and making the same assumption, Nasa would have 9.1 million, or 46.3 per cent.
The 13 battlegrounds, which also include Nairobi, Isiolo, Mandera, Wajir, Garissa, Marsabit, and Samburu, had a total of 5.1 million that the ruling party had said will now provide the key to hitting the constitutional threshold of 50 per cent plus one vote, for one to be declared president.
On Thursday, Mr Odinga claimed that Jubilee was wallowing in its own self-aggrandisement that would soon crumble.
"For the media, just keep lying to Jubilee that they have the numbers. They want you to massage their egos, right? Just do that but they should know, they have no numbers," he said.
Mr Odinga was speaking after meeting four different delegations from Kajiado, Kwale, West Pokot and Turkana at Orange House. In 2013, Mr Odinga, with 5,340,546 votes, lost to President Kenyatta by 833,887.
But with the addition of Mr Musalia Mudavadi of the Amani National Congress (ANC), who had 483,981 votes, into the Nasa fold and what they hope will be a better voter turnout in their areas, the team believes they have their numbers all tucked in nicely.
On Thursday, the ODM leader also dismissed Deputy President William Ruto's claim that Nasa's main objective was to gain power.
"If he does not want power, let him go home then. What is it he is seeking himself? He should leave us alone because we want power to liberate our people," said Mr Odinga.
In its classification of Jubilee, Nasa and battle zones, the Jubilee team had claimed to have analysed previous voting patterns and changing trends.
Source link-nation.co.ke