Crackdown on fake papers to intensify, says Eric Kiraithe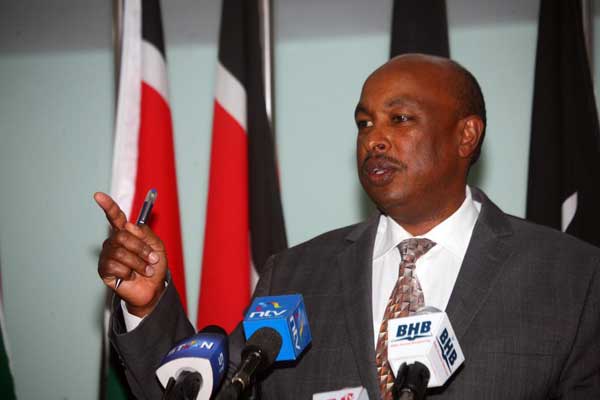 Did you study for your certificates?
This is the question you are likely to be faced with as the government intensifies a crackdown on academic fraud and corruption.
Government Spokesman Eric Kiraithe on Wednesday said academic documents of all Kenyans would subjected to scrutiny in a wide-ranging campaign to stamp out forgery.
CREDIBILITY
He denied claims by Mombasa Governor Hassan Joho and some opposition leaders that State House is using government departments, such the national exams council, to fight some politicians.
"The government's agenda is top — clean the education system and crack down on fake credentials," Mr Kiraithe said, adding that the measures are meant to ensure credibility and boost confidence in Kenya's education system.
Related Content
Detectives grill Joho for 2 hours
Chaos as police bar Joho supporters – VIDEO
Chaos as police bar Joho supporters – VIDEO
Joho to be quizzed by CID over papers
The Education ministry, he said, would ensure that all certificates acquired and used in the country are genuine.
"It is only fair for Kenyans who spend their money and struggle hard to get good grades. It is wrong for people to acquire good grades through unscrupulous means," Mr Kiraithe said.
JOHO CASE
His announcement came hours after Education Principal Secretary Belio Kipsang denied Mr Joho's claims that the government is targeting the Mombasa County boss and other opposition politicians in the war against fake papers.
Speaking on the sidelines of the Kenya National Commission for Unesco meeting at Mombasa Continental Resort, Dr Kipsang said the ministry was only executing its mandate.
"We are not targeting them (politicians). In fact it is not our job. We are only assisting IEBC. Why should you target anybody? What for?" he said.
The PS said the electoral commission had constituted a new team to verify certificates presented by politicians ahead of the polls and that his ministry is part of it.
When asked to outline the ministry's role in clearing politicians to vie for elective posts, he said: "I don't want to go there because IEBC elaborated our role. They are managing elections."
MPS PROTEST
However, three members of the National Assembly Committee on Education condemned the government, saying it is punishing Mr Joho for speaking his mind.
Mr Joho is being investigated for allegedly forging his Form Four result slip, which he allegedly used to get admitted to the University of Nairobi.
The investigators are seeking to establish how the county boss, who scored a D- minus in his Kenya Certificate of Secondary Education exams in 1993, proceeded to university, because the grade is below the minimum required grade for university admission.
MPs Yusuf Chanzu (Vihiga), Geoffrey Odanga (Matayos) and Silverse Lisamula (Shinyalu) said they would take the matter to the National Assembly for debate.
They said President Kenyatta should "leave Joho alone" and concentrate on fighting corruption in the country.
Mr Joho has accused President Kenyatta of being behind his woes in a bid to lock him out of the August polls.
-nation.co.ke