Wiper and Ford Kenya cancel discussions on joint NASA nominations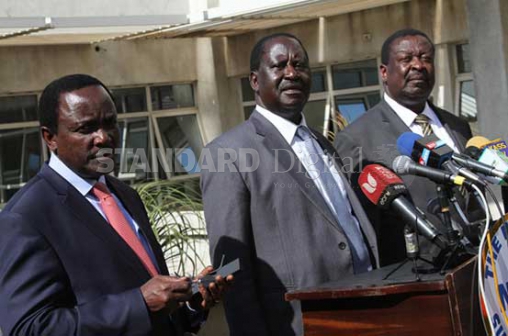 Wiper leader Kalonzo Musyoka yesterday cancelled a meeting to discuss the contested National Super Alliance (NASA) nomination rules at the last minute, presumably to tone down an emerging standoff on the coalition's primaries. Ford Kenya's Moses Wetang'ula had also invited journalists for a briefing over the party nomination plans but also cancelled it, giving credence to reports of a possible attempt to play down exchanges between the partner parties.
Wiper had summoned its National Executive Committee members to discuss the nomination rules submitted to the Registrar of Political Parties last week but cancelled it, citing a quorum hitch. Earlier in the morning, Wiper Secretary-General Hassan Omar said the meeting was to discuss the rules before ratifying them. The party, through Senator Omar, has opposed the proposal for joint nominations, fearing a shambolic process. Wiper Chairman David Musila and some MPs had arrived for the meeting before it was announced that it had been cancelled.
And while addressing a press briefing at the Amani National Congress (ANC) headquarters, Musalia Mudavadi urged opposition supporters to remain calm as the differences were resolved. The Standard also learnt that opposition leaders Raila Odinga, Musyoka, Mudavadi, and Wetang'ula yesterday morning held a meeting in Nairobi with a group of evangelists.
"I would want to ask NASA supporters not be worried because what is going on is just a debate on the best approach to take. No party fears a joint nomination process. We are all ready as coalition partners," said Mudavadi.
The four parties under the coalition have been briefing their election bodies separately for their respective primaries. Party primaries will run from April 13 to 26. ODM, Wiper, and ANC have all said they would independently field candidates in all the 47 counties save for areas where having multiple candidates would compromise their victory.
Mudavadi yesterday unveiled a 12-member National Elections Board and a five-member Internal Dispute Resolution Committee to steer the party's nomination process. He promised a free and fair process for all aspirants seeking the party's ticket in the August 8 General Election.
Mudavadi said that if there would be need for joint primaries in certain areas, the election boards of all the parties would network in coming up with a joint process. "As ANC, we are ready to field candidates everywhere. In some few places we will negotiate but in many places we will be free to field candidates," he said.
The former Sabatia MP said ANC would field candidates in western, Nyanza, Coast, and other regions. "We are alive to the fact that we are in NASA and have filed rules with the Registrar of Political Parties. Our board will therefore network with other boards that will form a joint board in the event there would be a need for a joint process somewhere for broad participation of all parties," he added.
He said Nairobi remains the only tricky ground that the parties may consider joint nominations. ODM Director of Elections Junet Mohammed said the party's National Election Board (NEB) was ready for any eventuality and was putting in place plans to conduct nominations in all the 47 counties. "Our election board is preparing to conduct nominations in all the 47 counties. We have submitted our nomination rules and regulations, in line with IEBC regulations," said Junet.
Senator Omar yesterday said NASA was mainly for the presidential ticket but not other elective seats, adding that having a joint process for all the seats will be akin to dissolving the parties. "If we were to have joint primaries, why couldn't we dissolve the parties? As at now, all these parties are independent entities.
We must not bury our heads in the sand because some of these concerns being raised are real and that is why Jubilee is already having problems," said Omar in the morning before the party meeting was called off.
Source link-standardmedia.co.ke