Uhuru and Ruto extended political campaign in coast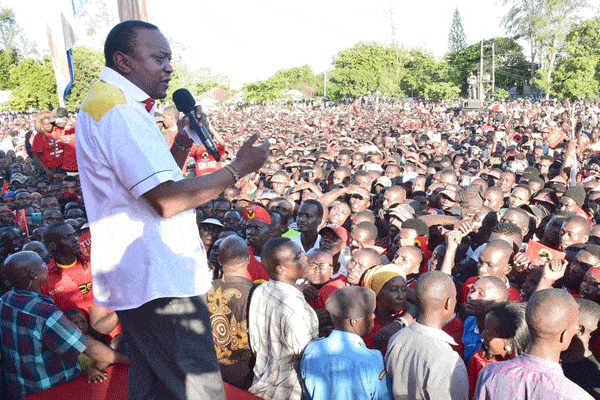 President Uhuru Kenyatta and Deputy President William Ruto on Thursday extended their political campaign in the coast to Kwale and Kilifi, confident the Jubilee Party will garner more votes in the region than in 2013.
Visiting Kilifi for the second day running, they said more residents had joined the party because of its development record and were tired of the Opposition's rhetoric. They paraded Jubilee Party nominees and pleaded with residents to vote for the political group in this year's General Election.
The coast overwhelmingly voted for the Opposition in 2013 but President Kenyatta and Mr Ruto have been crisscrossing the region with goodies.
In Kwale, the President warned the Wiper governor nominee Chirau Ali Mwakwere to stop spreading propaganda about the Jubilee leadership lest he expose his dark past.
Speaking at the governor's office at Lunga Lunga after launching a 17.2-kilometre road to Vanga, the President scoffed at the elderly politician: "I was shocked when he joined our opponents after I give him the ambassadorial post. "Now he is abusing my administration that we have grabbed land and other silly claims. I warn him to desist and conduct peaceful campaigns or I expose his ills. I have his files and I can open them to the public any time."
The President said he gave Mr Mwakwere a lifeline when he made him ambassador to Tanzania after he lost the Kwale senate race in 2013.
He said it was Mr Mwakwere who signed away the rights of the people when he was Environment minister and should stop his unfounded claims.
"He has been going around claiming that (Kwale Governor) Salim Mvurya joined Jubilee to steal the resources of Kwale people," said the Head of State, adding: "We know what you are".
Mr Ruto also condemned Mr Mwakwere, saying he was surprised "how this old man whom I worked with closely in 2013 had changed so much". The DP said Nasa had nothing to offer.
Deputy Governor Fatuma Achani had kicked off the attack on Mr Mwakwere. She faulted him for accusing Governor Mvurya of issuing a mining licence to Cotec, saying it got the licence when Mr Mwakwere was minister.
Mr Mvurya dismissed those he accused of soiling his name in Kwale "because we have evidence they are land grabbers and perpetual failures whom we defeated several times in court".
The President asked Kwale voters to re-elect him for development.
"I am building roads such as the Samburu-Kwale one, the Lunga Lunga one and others," said the President.
"I sent medical equipment, including ICU ones that enabled Msambweni Hospital to become level five hospital."
He denied the claim that his administration had marginalised Muslims, saying they had been appointed to numerous senior government positions, including ambassadors.
The President asked voters to re-elect Governor Mvurya, who was voted on an ODM ticket in 2013 "but chose to join us for the sake of development".
He revealed that, from next year, primary and secondary school education will be free in Kenya.
"The opposition are only good in politics of tribalism, propaganda, hatred and empty rhetorics," the President said in Kilifi amid shouts of "unga" by the crowd, which he ignored.
Mr Ruto said the Jubilee government had given the most title deeds ever and had connected more than 70,000 people to power in Kilifi, which he said gets Sh800 million in cash transfers for the elderly, from Sh170 million.
The administration was building 250 kilometres of tarmac road in Kilifi, he said, adding that the coast's most populous county received the fourth-highest amount of money for devolution but there was nothing to show for it.
Kilifi North MP Gideon Mung'aro, the Jubilee gubernatorial nominee, was heckled when he said a two-kilogramme packet of maize flour was now Sh90. The crowd shouted that they were yet to access the flour.
-nation.co.ke