President Uhuru Kenyatta's tycoons raise millions in 2 hours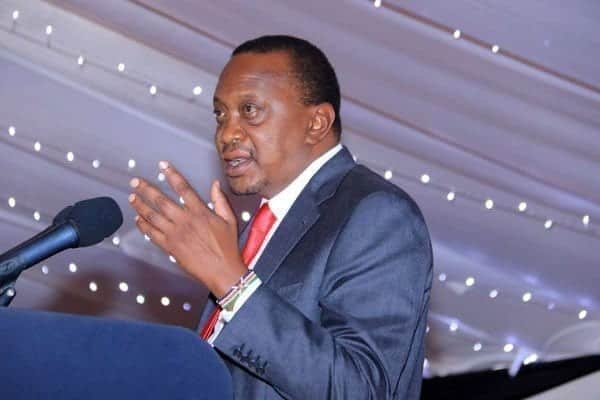 President Uhuru Kenyatta has asked campaign donors not to hedge their bets by funding him and his political rivals ahead of this year's General Election. This came as indications emerged that at least Sh1 billion was collected in less than two hours in an exclusive dinner attended by President Kenyatta and his Deputy William Ruto on Friday night.
The invite-only fundraiser, which was meant to bolster Mr Kenyatta's re-election campaign kitty, brought together business titans and top government officials at the Safari Park Hotel and Casino in Nairobi.
President Kenyatta, who arrived at the venue at 9.30pm, challenged campaign donors who had decided to fund the Jubilee Party not to also channel their money to the opposition National Super Alliance, arguing that it was a display of lack of faith in his administration's achievements in transforming Kenya's economic fortunes.
"You must believe in something and support it. I know some of you say they don't want to be associated with politics and want to pass their support under the table. They are acting as if they do not believe in something because, if they did, they would openly come out in support of the Jubilee government achievements for Kenya," the President said.
He said: "Tunajua vile wengine wanafanya, unaweka kidogo hapa na kidogo pale (We know what some are doing, you put a little here and a little there)".
Hedging has been a habit by power brokers and financiers over the years. The intention is to spread their risk so that whichever way the election goes, they are covered.
The President said he had declared State House out of bounds for those who wanted to support his re-election campaign under the cover of darkness.
"I told them not to come to State House, I have no business transactions in State House. Nimewaambia mpotee and mpotee kabisa! (I told them get lost)," he said, to the applause of those in attendance.
This was in apparent reference to the practice of tycoons offering campaign donations and then showing up with demands for contracts and appointments after elections.
Mr Ruto said that as Jubilee campaign leader, the lobby's initiative would make his work easier by keeping the show on the road towards August 8 voting day.
At the high-profile event that the media was barred from attending but which the Nation gained access to and later spoke in confidence to multiple sources to piece together the inside story, the guests' sitting arrangement was categorised according to their contributions.
The highest level, platinum, contributed Sh10 million and above and sat close to the President. The next ring was the gold category which comprised those offering at least Sh5 million to help Mr Kenyatta secure a second term in office.
Then came the silver group who parted with Sh2.5 million and the bronze who offered Sh1 million. The last category was the garnet who donated Sh500,000. There were also those who sent their contributions but did not attend the invite-only event.
Those at the venue had been given invitation cards earlier and only came with their bank deposit slips as no cash contributions were made.
In a spectacle of status, the parking lot of the hotel said it all. It was jammed with top-of-the-range vehicles with drivers and bodyguards waiting outside. It was a show of wealth and power.
Chairman of the fundraising committee Paul Ndung'u, who is also a director of mobile phone and accessories distribution firm Mobicom, introduced his technical team that he said had regrouped with the sole agenda of delivering President Kenyatta's re-election in August.
The technical committee operating under the umbrella of the Friends of Jubilee Foundation is made up of the Kenya Revenue Authority Commissioner-General John Njiraini, Energy Principal Secretary Joseph Njoroge, businessmen Peter Muthoka and Mr Richard Ngatia, who owns Galileo – an entertainment joint in Nairobi.
Others included Mr Stanley Kinyanjui, director of the outdoor advertising company Magnate, and Wanderjoy events organising and equipment director Maina Wandere, among others.
Private sector veteran John Simba chairs the Friends of the Jubilee Foundation, a lobby whose other members in attendance include Equity Bank board chair and chair of the Mount Kenya Foundation lobby Peter Munga, Kenya Leather Council Board chairman and immediate former chairman of the defunct Alliance Party of Kenya Titus Ibui, coffee sector business mogul Pius Ngugi, among others.
Mr Ibui, a senior member of the Mount Kenya Foundation, is the secretary to the Friends of the Jubilee lobby, and who was described by Mr Ndung'u as the "strength and pillar" of the Jubilee Foundation lobby. Mount Kenya University founder and Chairman Simon Gicharu was also present. The emcees were media personalities Ms Julie Gichuru and Ms Caroline Mutoko.
Jubilee-affiliated politicians, governors, MPs and aspirants attended the meeting. Each of the cabinet secretaries led delegations of friends of the President in giving their support. The Orange Democratic Movement's presidential candidate Raila Odinga is expected to have a fundraiser on June 19.
Among the banking slips submitted, one businessman donated Sh100 million to the kitty. We could not immediately establish his identity although our contacts intimated that the man is a close friend of the Kenyattas.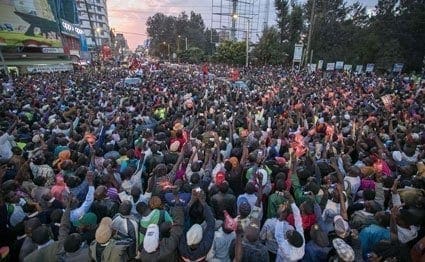 President Uhuru Kenyatta and Deputy President William Ruto in Eldoret, Uasin Gishu on June 10, 2017. PHOTO | JARED NYATAYA | NATION MEDIA GROUP
The Mount Kenya Foundation was founded to support President Mwai Kibaki's re-election campaigns in 2007, after the collapse of the National Rainbow Coalition on which he was elected in 2002.
It was also instrumental in formation of Party of National Unity re-election vehicle, and essentially inherited the mantle of the defunct Democratic Party Trustees, who were key in mobilising resources for Narc during the 2002 General Election.
In his speech, Mr Simba said the FJF lobby was created with the sole purpose of supporting President Kenyatta's re-election efforts in appreciation of the achievements accomplished by his administration especially in infrastructure, revamping health services, and ensuring security and political stability conducive for business.
"Ours is a practical commitment to mobilise patriotic Kenyans to support President Uhuru's quest to continue his development agenda for a prosperous Kenya," he said.
The total amount collected or individual contributions were not made public, and Mr Ndung'u said the dinner marked the launch of continuous fundraising efforts to last until August 7, a day before the voting day.
A mobile Equity Bank branch was on standby throughout the night for those who wished to make deposits, while other donations were made through mobile money transfer options.
The Nation has established that before the event, the President's handlers were divided on whether or not he should make an appearance at the dinner and there were suggestions that the Deputy President should represent him.
Those opposed to him attending held that he would appear insensitive to the plight of sections of the country facing high food prices while those rooting for his presence said he would give confidence to the benefactors. Furthermore, it was going to be an appreciation of their contributions. They carried the day.
One of the lobby members disclosed that the President will be doing a personal note to each of the guests thanking them for standing by him in what promises to be a tough election.
Jubilee Party vice-chairman David Murathe sought to downplay the occasion, saying there was nothing out of the ordinary in it.
"I hear ODM has theirs coming up too, I will attend if invited. Parties do this every other time," he said.
The former Gatanga MP said the lobby will not be handing over the collected cash to them but will sponsor activities that are meant to boost voter turnout as well as winning over regions that are considered battlegrounds.
Keen to change the perception that theirs was an exclusive club of the rich, Mr Murathe disclosed that they had received "a lot of money" from ordinary Kenyans who support Mr Kenyatta's second term bid.
"We have been receiving money from Kenyans from all walks of life through a Paybill number," he said.
Makueni MP Daniel Maanzo (Nasa) dismissed the grouping as those who have done business with the government before and were supporting the President so they continue with their business.
"These are contractors, people who have benefited through skewed awards of government tenders and business. Naturally, they are expected to return the favour – nothing is for free," he said.
The Independent Electoral and Boundaries Commission had imposed a ceiling of Sh5.2 billion for presidential campaign expenditure, and Sh3 billion for a single donor, forcing parties to resort to fundraising through American style Political Action Committee foundations and trusts that can solicit funding, receive and spend it on a candidate's and a party's campaigns without getting entangled in legal restrictions even if they overshoot the IEBC ceilings. However, the campaign financing law and oversight generally remains weak as full enforcement is expected from 2022.
In Kenya, campaign funding has been linked to major scandals cooked around election seasons, among them the infamous multi-billion-dollar fake import compensation Goldenberg scandal (1992), irregular excision of Karura Forest and sugar importation scams in the 1990s, the hydra headed credit-finance Anglo Leasing scandal in the Narc administration and other massive fraudulent land allocations. Jubilee and Nasa will, therefore, be careful to avoid getting entangled in such scams before and after the election.
Source link-nation.co.ke