'I want to move on': Kibor, 86 want quick divorce from wife of 51 years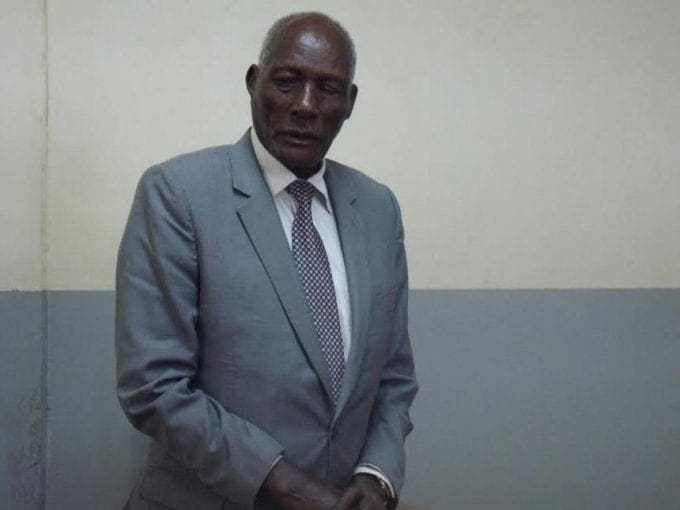 Politician cum farmer Jackson Kibor insisted he wants a quick divorce from his second wife of 51 years when he testified in court for the second time.
The 86-year-old told principal magistrate Charles Obulutsa on Wednesday evening that he wants them to part officially so he can move on.
He said the case for his divorce from Josephine Jepkoech has taken too long and been adjourned 10 times, unnecessarily inconveniencing him.
Kibor denied that he wants the divorce because Jepkoech placed a caveat on a 200-acre piece of land which he wanted to sell.
"I have said I don't want her because she travelled to Canada to live with her children without my authority, abandoning me several times," he said.
The man filed for divorce a year ago accusing his wife of desertion, cruelty, denial of conjugal rights and interference with his ownership of an 800-acre piece of land in Kipkabus, Uasin Gishu county.
Police stormed Kibor's home on March 7 and arrested him for misusing his gun.
He shot three times at his son Ezekiel the previous week in a dispute over their farm near Eldoret. He said he did so in self-defence but his son claimed he intended to kill. The man is emboriled in a land dispute with his sons.
While being cross-examined by Jepkoech's lawyer Amos Magut, Kibor refused to talk about conjugal rights, causing laughter in the court.
The farmer was asked by the lawyer if his wife ever sent him away when he visited and if she ever denied him the rights.,
"If you have one wife, don't ask me about those things. If I go to one house and I am not welcomed, even though the home is mine, I will simply go to the other home."
Kibor's first wife Mary is deceased while his third wife is called Yunita.
Jepkoech was not in court but has opposed the divorce saying she is happy and does not understand why her husband is frustrating her with the divorce case.
Her lawyer produced three letters written in Kalenjin, which Kibor allegedly sent her on diverse dates, instructing her on several issues concerning their farm. She wants the letters used as evidence that she was taking orders from Kibor as his wife.
But the politician said: "I cannot write anything in English or Kalenjin…I don't know who write those letters."
In his affidavits, Kibor says he has not spent time with the woman for more than 30 years. He asked the court to cancel their marriage certificate, which was issued in 1965.
"She is my wife but I have not slept in the house I built for her for the last 30 years. She does not respect me and has abandoned the farm for long, causing the death of my livestock and chickens," he said.
In her reply, his wife said she loved and respected the man.
"He knows very well that we have always lived happily. He is my husband and I don't know why he brought me to court,"she said.
She produced photographs of past family events where Kibor was with relatives including the three wives.
Jepkoech wants the court to throw out the case whose hearing will continue on June 28.
Source link-the-star.co.ke