Kenyan born actress nominated for African Pride Awards 2017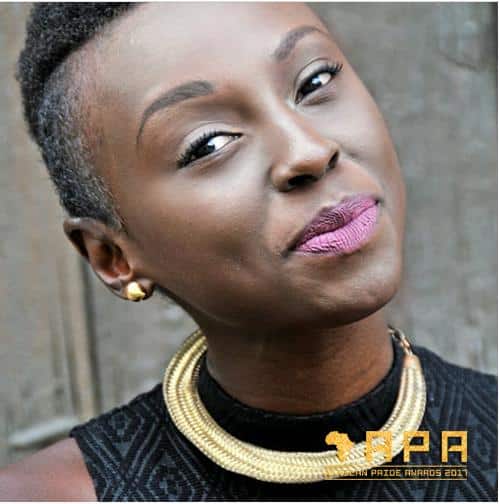 Kenyan born actress, Nyokabi Gethaiga has been nominated for an award in Outstanding Achievement in Film for the Africa Pride Awards.
Nyokabi Gethaiga is a Kenyan born actress/Model/Singer/Songwriter, known for Kati Kati (2016), Going Bongo (2015) and Nairobi Half Life (2012).
Her screen debut came about when she was given the role of Hanna in a UK produced film, "I Am Slave"directed by Gabriel Range (Death of a President,The Day Britain Stopped) where she acted alongside the talented Isaach De Bankolé (Casino Royale, 24).
Kindly click below to vote for her.
africanprideawards.org/outstanding-achievement-in-film-africa/
Why 2014 is a good year for Africa at the Oscars 
Los Angeles, USA: When South African film Tsotsi won the Oscar for Best Foreign Language Film in 2006, it felt like the entire continent was up on that stage, crying and thanking the ancestors. It is not all the time that Africans take centre stage in the global entertainment industry. It just doesn't happen that often, which is why Lupita Nyong'o who won the Oscar for Best Actress in a Supporting Role must be commended.
In this fleeting moment, the dreams and aspirations of a country, nay a continent, are reflected in her image. She's our 'Yes, we can' girl, just like Tsotsi was our 'Yes, we can' film back in 2006.  But let's not forget London-born Nigerian Chiwetel Ejiofor, who had been nominated for Best Actor in a Leading Role, the main character in 12 Years a Slave.
By carrying off the tragic and dehumanising Solomon Northup role with such strength and dignity, he's done his bit for the self-esteem of all people of black descent. Somali pirates And then there's the retiring Barkhad Abdi (nominated for Best Actor in a Supporting Role), the Somali-American actor who made an absolute meal of his character in Captain Philips, giving such a startling portrayal of what we all imagine Somali pirates to be, even though what we imagine is probably a very inauthentic version of the truth.
It's hard to believe that this is a man who responded to a cattle-call audition, without the benefit of a Yale education, doing so well with the role that he won in the Best Supporting Actor category at the 2014 Baftas (British Academy of Film and Television Arts Awards). The Baftas are billed as the precursor to Oscar glory. This is clearly a good year for Africa at the Oscars. But we have had other successes.
One of the earliest films that was shot in Kenya and went on to gain international recognition was 1966's Born Free. The film about conservationists Joy and George Adamson, who raised an orphan lion cub to adulthood, had been nominated for a Golden Globe in the Best Motion Picture category. See Also: Everything Oscar is not always gold In 1986, Out of Africa was named Best Picture at the Oscars. Yes, it was mostly a Hollywood endeavour but it was shot on location in Nairobi's Karen area.
Source-https://www.standardmedia.co.ke/
Kenyan born actress nominated for African Pride Awards 2017