Opposition politicians barred from accessing Nkaissery's home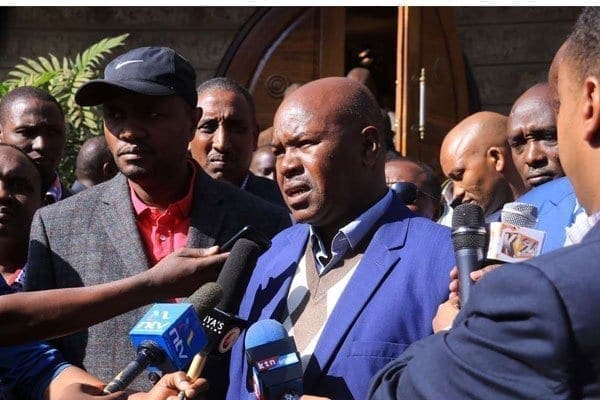 Differences between Jubilee and Nasa politicians played out at Interior Cabinet Secretary Joseph Nkaissery's home in Ilbisil on Sunday, when Kajiado Governor David Nkedianye and Kajiado Central MP Kanchori Memusi were barred from accessing the grounds on orders of the family.
Also denied entry were former Kenya Meat Commission chief Taraiya ole Kores and Wiper candidate for county woman MP seat Simayiai Rakita.
Apart from religious leaders, others who addressed the gathering included County Commissioner Harsama Kello, Kajiado South MP Katoo ole Metito, National Transport Safety Authority Director-General Francis Meja, Agriculture Principal Secretary Richard Lesiyampe and Narok Woman Representative Soipan Tuya.
Mr Meja is also the chairman of the burial committee.
After the prayers, the MC invited leaders to have a meal at Nkaissery's house.
That is where the Nasa leaders were denied entry.
Mr Kores decamped to the opposition when he lost in the Jubilee nominations for Kajiado governor to Mr Joseph ole Lenku.
A family source told the Nation that youths were restrained from evicting Dr Nkedianye and Mr Memusi from the prayer "so as not to cause a scene".
Nkaissery was not in the best of terms with the two politicians, especially Mr Memusi.
Matters came to a head when ODM offices in Kajiado were gutted by by started by unknown people on July 1.
On July 4, Dr Nkedianye and Mr Memusi convened a press conference at the ODM offices and said the minister was threatening them.
They also said Jubilee was behind the arson. They were accompanied by ODM Director of Elections Judy Pareno.
They later went to the Directorate of Criminal Investigations offices in Kajiado town to record statements.
Contacted later, the Cabinet secretary said he would sue the two for defamation.
CAUSE OF DEATH
Speakers at the prayer meeting asked Kajiado residents not to speculate on the cause of Nkaissery's death.
"There is a lot of speculation. People want to know what caused the death of Nkaissery," Mr Kello said.
"Everything is under control. The government also wants to know the cause of the death and will ensure it gets answers."
SHOCK
Mr Meja told the gathering that Mrs Hellen Nkaissery was responding well to treatment.
"I visited her in hospital today and she was fine. She is not sick but recovering from the shock of losing her husband," Mr Meja said.
He also asked the youth to stop making alarming statements on social media.
Mr Metito called for investigations, adding that the deaths of Nkaissery, George Saitoti in 2012, and William ole Ntimama in September last year were similar.
The government was hard-pressed to fully explain the circumstances that led to the CS' death.
Close family members and friends demanded a comprehensive investigation into the death, which they suggested was suspicious.
Former Narok North MP Moses ole Marima said individuals who knew him are yet to come to terms with the death.
"His death is a big blow to the Maa people. We have never known what killed minister George Saitoti.Will we know what killed Nkaissery?" an emotional Mr Marima asked.
"She (Mrs Nkaissery) told me he arrived home jolly, had dinner and joked. It is sad when one takes the life of another.
"If that is true, and I pray it is not, we want the truth to come out.
"When do we become a nation that we purport to be when every so often we cut short the life of a rising star?" he asked.
PEACEFUL
Former military chief Jeremiah Kianga said those investigating Mr Nkaissery's death should do so speedily and make public the cause.
"It was with tremendous shock that we learnt of his demise. We hope to know the truth about his death on time," he said.
Democratic Party leader Joseph Munyao said he knew the CS as a peaceful man and, therefore, could not associate his death with any political enemies.
TRIBUTE
Mr Munyao however said it should be of great concern to Kenyans that the country's head of security died suddenly.
"I am pleading with the authorities to get to the bottom of the matter. It is not easy to hear that the head of security is dead. If he goes, then what confidence do we have in our security?" he asked.
Others who paid tribute to the minister were Narc Kenya leader Martha Karua and National Assembly Deputy Speaker Joyce Laboso.
Mr Nkaissery's son, Kenneth Mumeita, was also present.
However, the minister's wife, whom family spokesman Saitoti ole Maika confirmed had been discharged from hospital, did not attend the prayer service.
-nation.co.ke