State to deport foreigners working for Nasa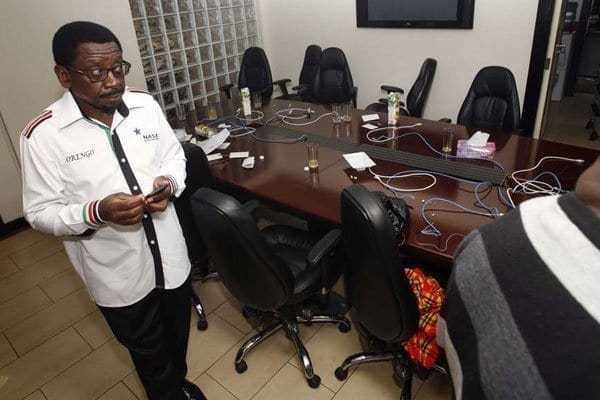 A US data firm, Aristotle Inc, has confirmed that its chief executive officer and a staffer have been detained and are facing deportation for assisting Nasa.
Mr Brandi Travis said Mr John Aristotle Philips, the CEO, and Andreas Katsouris were detained on Friday.
"We pick our international campaigns very carefully. Odinga was a candidate they really believed in," Mr Travis, who spoke for the firm, told Associated Press.
The two were arrested in a twin operation believed to have also seen opposition's national vote tallying centre raided.
The US embassy had earlier confirmed the deportation but it did not provide reasons for the same.
"US Embassy Kenya and Canadian High Commissioner are in touch with Kenya government and one American and one Canadian detained [on] August 4.
"They are safe and departing Kenya," the tweet reads.
Foreign Affairs Cabinet Secretary Amina Mohamed has said she is out of station but would be getting back to us.
RAID
We will update you once she speaks on this matter.
At the same time, Nasa has downplayed the raid in its tallying centre in Westlands, Nairobi.
Nasa has reported the loss of 20 computers, servers and mobile phones in the 8pm incident that has attracted wide condemnation from its supporters.
The gadgets were to be used in receiving results from across the country.
POLICE
Speaking on behalf of their presidential candidate Raila Odinga, Siaya Senator James Orengo accused the police of staging the attack, which left electronics strewn on the floor of a secluded building in Nairobi's Westlands.
"This was not a robbery. It was not an assault but state sponsored terror carried out by a gestapo," he said.
The police has denied any knowledge of the attack.
In a statement, Police Spokesperson George Kinoti said the allegations are not true and that Nasa has not yet reported the incident at any police station.
"These allegations are untrue and further wish to state that no such report of a burglary has been made to any police station," Mr Kinoti said.
Source link-nation.co.ke
State to deport foreigners working for Nasa