Uhuru back to the Coast, Raila in Rift Valley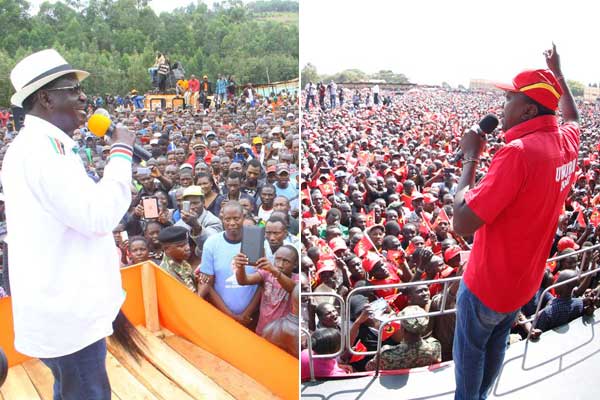 President Uhuru Kenyatta and his main challenger Raila Odinga today have last-minute rallies, five days to the high-stakes August 8 general election.
While President Kenyatta will comb through the coastal counties of Kilifi and Mombasa after visiting Makueni County in eastern region, Mr Odinga will be charming his way back to the Rift Valley in Kericho and Narok counties.
Mr Kenyatta will be counting on the rallies to shore up his re-election bid in the three counties that are perceived to be Nasa strongholds.
According to the latest poll by Infotrak Research and Consulting, President Kenyatta enjoys 32 per cent popularity in the Coast counties and 47 per cent popularity in Eastern counties that include Makueni.
He is also expected to use the rallies to drum up support for Jubilee candidates in the three Nasa-leaning counties.
President Kenyatta will start his rallies at Wote in Makueni County, the backyard of Mr Odinga's running mate Kalonzo Musyoka.
The Jubilee Party leader plans to get at least 35 per cent of the vote in the region and has unleashed a well-oiled, intensely-financed campaign largely hinged on what the ruling administration argues is the uncertainty of Mr Musyoka's political future.
This is a tall order for the President, considering that he had only five per cent of the vote (12, 652) in 2013 compared to Mr Odinga's overwhelming 90.73 per cent majority of 228, 843 votes.
From Makueni, the Head of State will then head down to Kilifi where he, accompanied by his Deputy William Ruto and Jubilee Kilifi governorship candidate Gideon Mung'aro, among others, address a rally in Kilifi Town.
In Kilifi, Mr Kenyatta is hoping to shore up his 10.72 per cent (23, 886 votes) support in 2013 to beat what Mr Odinga who had at 182, 708 votes.
After the Kilifi rally, Mr Kenyatta and his Jubilee brigade will head down to Mombasa where he will address a rally at the Tononoka Grounds.
In Mombasa, President Kenyatta polled 23.79 per cent (64,793) in 2013, compared to Mr Odinga's 189, 985 votes (69.77 per cent).
Meanwhile, Mr Odinga will be seeking to erode the probable gains made by President Kenyatta when he tours both Kericho and Nandi counties.
Mr Odinga will address rallies at Kapkatet Stadium in Kericho, where the Jubilee duo camped on Sunday, and another at Suswa grounds in Narok County.
President Kenyatta was also in Narok on Sunday.
Mr Odinga has enrolled the rebellious Bomet Governor Isaac Ruto of Chama Cha Mashinani, and who is now backing his bid, to woo back the overwhelming support he had in the Rift Valley in 2007 when he was voted almost to the man in the vast, hilly region.
In Narok, Mr Odinga had in 2013, despite his party losing the governor, senator, and all MP seats, beat President Kenyatta with 118, 623 votes against 109,413 votes.
In Kericho, he polled 17,336 votes against President Kenyatta's 238,556 votes.
There are only five days to the general election.
Additional reporting by Pius Maundu
Source link-nation.co.ke