Uhuru to replace non- performing ministers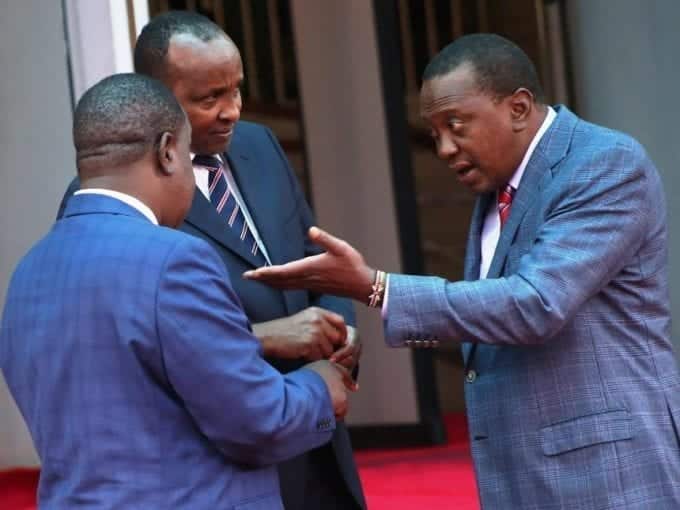 Wielding a big broom, President Uhuru Kenyatta will sack nonperforming Cabinet Secretaries and PSs and inject fresh blood to realise his vision in his second and final term.
"It will not be business as usual this time round," a source close to the President told the Star yesterday.
He is expected to assemble a government that better represents the face of Kenya, confidants say. In striving for unity, that means naming into government people from opposition strongholds who helped him win reelection, they tell the Star.
Free of the pressure to win reelection votes, to pull his punches and to appease special interests and communities, Kenyatta is expected to be bolder and more decisive.
In their final terms, many presidents are focussed on their legacy. They strive for and may achieve things not possible in a first term.
After a divisive election — faced with 6.7 million unhappy voters — the President is expected to prioritise nation cohesion, fight corruption with a greater zeal and focus on heath and infrastructure, his legacy projects.
Multiple sources close to the President yesterday told the Star yesterday the head of state was looking at fresh CVs and will make his decisions after his swearing in. The ceremony is expected to be on August 29, if there is no petition challenging his election.
"You can expect the President will carry a big broom that will sweep away those who haven't performed as he seeks greater efficiency in the management of government affairs," a source close to the head of state said
"Where he feels he needs more power he will not hesitate to ask Parliament for it so that he has no excuse for not delivering to Kenyans.
Kenyatta's first term was plagued by corruption scandals that overshadowed some achievements and impeded progress.
On October 18 last year at a State House summit on good governance, a visibly frustrated President Uhuru figuratively threw up his hands and said, "I have done all within my power in anti-graft war …"
He blamed the anti-graft agency, the DPP, the Directorate of Criminal Investigation and the Judiciary. He castigated the Auditor General for wanted to go to Europe to investigate allegations of lost Eurobond funds.
Perhaps his approach will be different this time round.
Kenyatta was reelected last week after defeating NASA leader Raila Odinga.
Those close to him say the President will concentrate on his legacy in the next three years before succession politics kicks in — and it's time for more compromises to see Deputy President William Ruto becomes President in 2022.
In his first term Kenyatta kept faith with most of his Cabinet until he was forced to drop five who were facing corruption allegations. They included Charity Ngilu, Davis Chirchir, Felix Kosgey and Michael Kamau and Kazungu Kambi. Charges were dropped.
In March this year he shuffled some Principal Secretaries for infighting.
Unlike his first term when he spent more than two years fighting ICC charges, the President starts his second term without external distractions.
He is expected to focus on the dream of joining the the world's middle-income economies and achieving sustained economic growth countrywide.
"In his ambition to make Kenya great, Kenyatta will have to craft his legacy against two extremes. On the one end, he has to dismantle the colonial legacy that divided the country into high-potential and low-potential areas and created injustices, some well captured by the Truth Justice and Reconciliation Commission," professor Peter Kagwanja, a Jubilee insider and reform strategist said.
"The government has to implement the Constitution to bring the poorest regions from the margins and into the fold to share in the making and enjoying of the wealth of the nation," he told the Star.
The relationship between the President and Ruto has anchored Jubilee and promoted peaceful relations between the Kikuyus and Kalenjins.
After the first three years, Kenyatta may be distracted by succession politics as Ruto prepares to succeed his boss.
This means the President must strike a balance between resisting pressure to achieve his legacy and backing Ruto, ensuring a smooth leadership transition.
"The DP will pick anyone from anywhere he believes can be his running mate. When that time comes, Central Kenya and other regions will have their take," Jubilee vice chairman David Murathe said yesterday.
"We will definitely have a highly charged political period with all political players working hard to fill the void to be left by Uhuru after five years," analyst Javas Bigambo said.
Nyeri county enjoyed the presidency under Mwai Kibaki and Kiambu has had it for the second time with Uhuru following his father Jomo.
Apart from regional groupings, other camps already are competing for State House to protect political and business interests in the region.
It has led to heightened activities, night meetings coupled with serious lobbying among elites, well-heeled church leaders, the business community, politicians and professionals.
The teams interested succeeding Uhuru are backed by financial muscle, ardent religious following, SMEs, saccos and artistes and cultural figures.
Ruto remains JP's presumptive presidential candidate in 2022, hoping to carry 2.9 million Central votes with him.
"Ruto will strongly be fought the way Raila was heavily fought," Bigambo said.
Some Mt Kenya leaders don't like Ruto because they believe he imposed leaders on them during the Jubilee primaries.
"My competitor was being helped by Ruto to kill our ambitions but we will soldier on to make our country better," said a former Gatanga MP while campaigning in Mlango Kubwa Nairobi 48 days to the elections.
Despite big shots in Mount Kenya being felled in the polls — primaries and General Election — the region is still crowded by leaders harbouring big political egos and ambitions.
They include Joe Nyaga (independent) , Martha Karua (former Justice minister), Peter Kenneth (independent), Mwangi Iria (Murang'a governor) and Peter Munya (former Meru governor).