Kenyans trapped in eye of US hurricane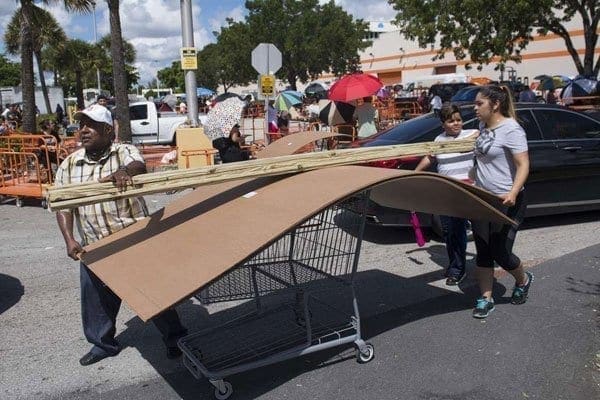 The sun sets over the mountains as hurricane Irma approaches Puerto Rico in Fajardo on September 5, 2017.  We asked Joey (not her real name), our hotel manager, if she was going to stay in Miami Beach ahead of Hurricane Irma and she said she was going to try her best to leave and go inland for safety. What she would not do, though, was to try and do a mad drive on the I-95 — the main Interstate Highway on the US East Coast —  with no fuel and no plan, which is what some people were doing.  Joey had plans to go to Texas next week on Wednesday but with the hurricane coming, she has decided to head out there this weekend. Her friend has managed to get her a flight to Texas scheduled for Friday evening but she fears it will be too late. Maryanne Michuki and I arrived in Miami Beach on the afternoon of Sunday,  September 3, on the eve of the US Labour Day celebrations. Our hotel is located on Collins Avenue – a 21km straight road that runs parallel to the Atlantic Ocean and has a mix of restaurants, hotels and shops.
It is hip and happening and as night began to fall on the city on the Sunday night when we arrived, the entire area was in party mode. To our tired eyes – we had come from the bright sunshine and humid heat of Montego Bay in Jamaica – the bright lights of the clubs on Collins Avenue were dazzling. We got on the road and walked 5km down the avenue, absorbing the music bopping everywhere. There were bare-chested men driving around in open convertible vehicles playing loud music. There were curvaceous women strutting on the pavements wearing bikinis and perfect make up. Young men zoomed up and down pavements on skate boards. Hundreds of people were out late at night visiting the shops and restaurants on Lincoln Road mall – yes a road that is a mall. Indeed, our first experience of Miami was unforgettable.
BAD THINGS
We first got an inkling of how bad things would get from Maria, a beautiful Cuban attendant in a shop we visited, on Tuesday afternoon. There are many Cubans resident in Miami, with a lot of visitors from Argentina and Peurto Rico, and the main language seems to be Spanish. Anyway, Maria asked us where we were from and we happily told her Kenya. She looked shocked and asked us if we were aware Hurricane Irma has been upgraded from category 4 to 5. We were not aware but by the time we left that shop we knew we had to get on the Emirates flight to Dubai slated for that night. The flight was due to leave Fort Lauderdale Airport in Florida on Tuesday night at 9pm. It was 4pm and we were 48km away from the airport. We never got on that flight because it was full and it was doubtful we would have made on time anyway.
MIAMI BEACH
And so we are still in Miami Beach, literally sitting in the eye of a storm. Mark, another manager at the hotel, booked his flight home to Mississippi on Tuesday evening. He will be leaving today (Friday) morning ahead of Joey. He did the booking immediately the hotel management confirmed they would close the hotel for evacuation. The hotel will be closed today (Friday) morning and all remaining guests will be transferred to other facilities inland. Hotels are now not accepting any new bookings. The beach remained calm and beautiful on Thursday, white clean beaches sparkling in bright sunshine. There was no sign of the storm to come yet. However, the hotels were not taking any chances. All the beach beds and sun umbrellas had been cleared from the beach and stowed away safely in the stores. Hotel patios had been cleared of  tables and chairs and everything moved indoors for safety.
QUIET
On Wednesday evening Collins Avenue was deathly quiet. Panicked guests had been departing the boutique hotels in the area since morning. Our hotel was more than half empty with guests leaving as soon as they could get connecting flights out of Miami. We are scheduled to leave on Thursday night, on an Emirates flight to Dubai but that depends on our being able to get to the Fort Lauderdale airport. Traffic on the Interstate 95 highway has been gridlocked most of the as this is the main road out of Miami Beach and Florida. It is also the only road to the airport. Florida Governor Rick Scott has issued a state of emergency in order to mitigate against the hurricane's expected disastrous impact on the state.
EVACUATION
He has ordered mandatory evacuation of several areas including Miami-Dade where we currently are. About six million people need to be evacuated, mostly via the Interstate 95 highway. Petrol stations have run out of fuel and all flights out of Miami and Fort Lauderdale airports are full. All media channels are providing guides to residents on what to pack for evacuation such as identification documents, warm clothing, medication and food – and where to go for hurricane shelter and how to call for help. Given the damage Hurricane Irma has done to the Virgin Islands and other small islands on the Atlantic, there is much to fear and enough reason to heed all warnings to all evacuation warnings.  We are praying that we will make it out of Florida in time for our flight and that we will be able to keep out Irma's way. – Daily Nation