Mbadi downplays Nasa MPs' disquiet about poll funding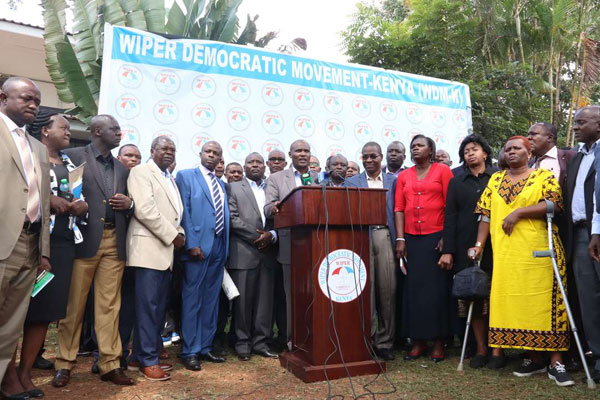 The opposition has played down disquiet within its ranks about MPs contributing towards funding the National Super Alliance presidential campaigns.
During the opposition parliamentary group meeting on Wednesday, MPs, senators, woman representatives and governors were asked to contribute towards the campaign kitty.
Lawmakers were also told to pay party agents deployed in their constituencies.
While it is normal for members of a political party or coalition to contribute towards the activities of their outfits, first-time MPs were not pleased with being asked to contribute Sh200,000.
Top on the list of concerns was accountability in the use of the funds.
Questions were raised on how money raised for the August polls was utilised by the coalition.
Orange Democratic Movement chairman John Mbadi  downplayed the concerns.
Mr Mbadi said there was general consensus among MPs to contribute "something" to the campaign kitty.
"There was no acrimony. MPs only differed on the amount to contribute. Some wanted to give Sh250,000, others proposed Sh200,000 while some first-time lawmakers were willing to give out Sh300,000," Mr Mbadi told the Nation.
"At the end of the meeting, there was consensus that first-time MPs would give Sh200,000 while others would contribute Sh500,000. There was a lot of enthusiasm towards it," the party chairman said.
The Suba South lawmaker said second time MPs wanted a change in monthly subscriptions but the proposal was turned down.
"They asked to be exempted from remitting the monthly fee to the party for a year after paying Sh500,000 but we told them it could not happen," Mr Mbadi said.
"Some have already paid half the amount and promised to clear the balance at the end of the month. Others have paid the full amount."
While announcing the setting up of an M-Pesa paybill number and bank accounts for Nasa campaigns, opposition presidential flagbearer Raila Odinga said such a practice was common all over the world, "including advanced democracies".
"Elections in those countries are financed and run by donors and volunteers. In fact, in many countries where big business and corporates are in bed with the repressive state, it is volunteers and small donors who make the big difference," the opposition leader said.
"The launch is another step on the long road to reclaim our country from fraudsters, election thieves and election authoritarianism."
 Source link-nation.co.ke