Raila faking toughness, plotting power-sharing deal, says Ruto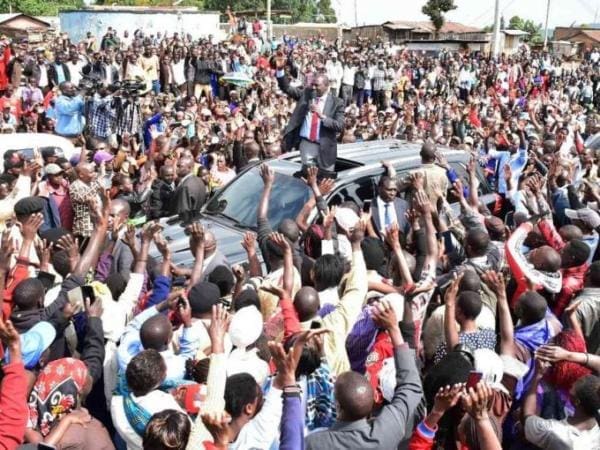 Opposition leader Raila Odinga should pull out of the repeat October 26 presidential election if he is not interested, instead of causing anxiety and confusing Kenyans.
Deputy President William Ruto said this on Sunday during a tour of Nandi county.
Ruto said the NASA leader is free to withdraw and allow other Kenyans to elect their president without being coerced or intimidated.
"Mr Odinga has the option of pulling out of the presidential race," he said at Kaptumo grounds, adding he is creating roadblocks because he knows he will be defeated.
His scheme, he further said, is aimed at causing confusion and chaos with a view of precipitating the formation of a coalition government.
Ruto told Opposition leaders that Kenyans will vote peacefully come election day, whether they participate or not.
"I want to tell Mr Odinga that he has no capacity to stop Kenyans from exercising their democratic right of electing leaders of their choice," he said.
"If anyone believes in democracy, he should be prepared to respect the will of Kenyans in a free and democratic election."
The DP claimed NASA leaders are bent on inciting Kenyans to engage in violence with a view to causing bloodshed and loss of lives so as to create room for the negotiation of a coalition government.
"These guys tell us during the day that they are not interested in a coalition government while at night that's their plan."
Raila has said he is not interested in sharing power with Jubilee Party leader whom he has termed thieves.
"We want the whole thing, we will win the Presidential polls and we will win this election very early. We cannot share power with thieves," he said on September 3.
'NOT KENYA OF 1982 COUP'
Ruto was with Nandi Governor Stephen Sang, his Uasin Gishu counterpart Jackson Mandago and MPs Wilson Kogo (Chesumei), Cornelly Serem (Aldai), Tecla Tum (woman represenative), Samson Cherargei (Nandi) and Julius Melly (Tinderet).
The leaders told Raila to make good his threat to boycott elections, saying voters will simply confirm the re-election of President Uhuru Kenyatta.
Sang said the Opposition leader has no capacity to stop Kenyans from voting.
"Unless Mr Odinga wants to carry out a coup, withdraw from the race or cause violence, I don't understand why he is telling us there will be no election," he said.
"But we want to warn him that this is not the Kenya of 1982 when he carried out a failed coup. This is a no no-nsense government under the leadership of Uhuru."
Kogo said Raila tried violence to achieve his selfish ends but failed and that his only option is to withdraw from the race.
Mandago said the NASA flag bearer will not be allowed to bring the country to a standstill while pursuing his selfish agenda.
"Kenya is more important than Mr Odinga. He should therefore stop inciting a section of Kenyans not to participate in the next elections. This man should know Kenya will move on without his political participation," he said.
"We will be happy if our competitor does not participate in election because we will be unopposed winners."
The MPs said they will push for the amendment of the Elections Act to allow adoption of the manual system of voting.
"We will, as a matter of urgency, amend election laws to adopt the manual voting system which is simple as votes will be counted easily," said Cherargei.
The politicians further urged voters to turn out in large numbers to vote for Uhuru.
Earlier, the Deputy President attended a service at Kipsebwo Catholic Church, where he asked Christians to continue praying for peace especially during the electioneering period.
"As Christians, we should continue praying for peace in our country. You should also pray for our leaders to know that Kenyans are supreme as far as issues of elections are concerned," said Mr Ruto.
Father Jonas Kiplimo, who delivered the sermon, urged Kenyans to embrace peace and brotherhood especially now that the country is headed to another election.
Agriculture Cabinet Secretary Willy Bett was also present.
Source link-the-star.co.ke