Anti-IEBC protesters loot in Kisumu (Video)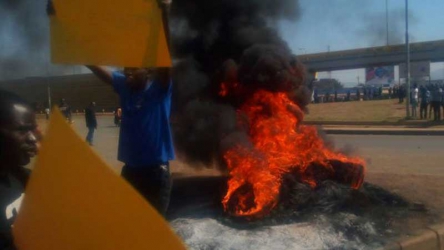 Opposition protests to push for reforms in the Independent Electoral and Boundaries Commission (IEBC) ahead of the fresh presidential poll have started in different parts of the country.
In Kisumu, hundreds of protesters turned up in large numbers and paralysed transport along the Kisumu-Kakamega highway on Friday.
The youth lit bonfires and blocked roads using boulders and burnt tyres.
Some rowdy youth forced their way and broke into Tumaini Supermarket and an eatery, looted merchandise and destroyed property.
According to some of the locals, the angry youth vented their anger after they were denied access into IEBC offices in the county.
Police intervened and dispersed the demonstrators.
Source link-standardmedia.co.ke