Let's do this, with or without Raila – Uhuru Kenyatta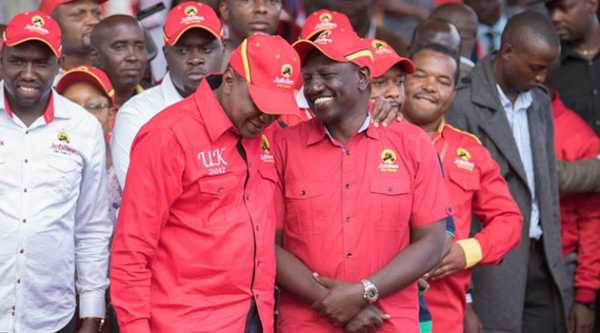 VOI, Kenya, Oct 10 – President Uhuru Kenyatta and his deputy William Ruto now say they are ready for the October 26 fresh presidential election despite the withdrawal of NASA candidate Raila Odinga and his running mate Kalonzo Musyoka.
President Kenyatta and Ruto who spoke during a rally in Voi, say Odinga's withdrawal cannot stop the election as ordered by the Supreme Court.
"We are ready for an election whether he will be on the ballot or not. Yesterday, he said it is his democratic right not to participate, we tell him also, it is the people's right to participate in an election; to chose their leaders," President Kenyatta said.
"So whether you are there or not, we are proceeding to the people who have the sovereign right to elect the leaders of their choice."
After all, President Kenyatta said there is nowhere in the constitution, "where it says Raila Amollo Odinga must be on the ballot."
On his part, Ruto says it is now up to IEBC to decide if it will hold the elections or declare Kenyatta President-elect.
"We are ready if the IEBC will say, now that there is no other candidate, the one who has remained, Uhuru Kenyatta, be declared the President of the Republic of Kenya. We are ready," he asserted.
According to Ruto, it is the NASA leader's democratic right to choose whether to be on the ballot or not but, "it is the democratic right of 45 million Kenyans to go into election which they have chosen. It cannot be determined by one person."
The Independent Electoral and Boundaries Commission top officials immediately went into a meeting with their legal team and pledged to communicate the way forward.
Odinga however wants the IEBC to cancel the October 26 presidential poll and to conduct fresh nominations.
"The procedure for nomination of presidential candidates is provided for in the Elections Act 2011, Section 13 (1) which states," he said.
The Elections Act 2011, Section 13 (1) which states: "A political party shall nominate its candidates for an election under this act at least ninety days before a general election under this Act in accordance with its Constitution rules."
"It is clear that this provision gives adequate time to undertake the reforms necessary to conduct an election that is in strict conformity with the Constitution, the relevant laws and the Constitution," the NASA leaders said.
"This being the case, it is our conviction that our withdrawal is in the best interest of the country and a win-win for everyone."
Source link-capitalfm.co.ke
Let's do this, with or without Raila – Uhuru Kenyatta