Death Announcement for William Amunga Chamwada of Houston,TX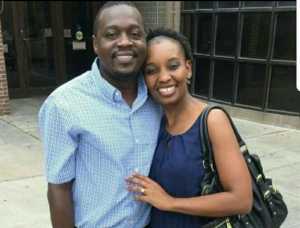 It is with a heavy heart that we announce the sudden passing away of Mr William Amunga Chamwada, beloved husband to Rosemary Kamau (Ciru) dad to Kingston, Maddox, Blessing and Johnson all of Houston,TX. William is son of Lydia Indimuli of Houston TX, Big brother to Peggy and Christa. Uncle to Mercy, Adrienne, Valentine and Abigael of Houston TX.
He was uncle, and brother to many people he touched in the Houston community. Many will remember him as an outgoing individual who never held a grudge against anyone.
Willie's sudden demise comes at a tough time for the Chamwada family as they had just had a bouncing baby boy (Johnson) who was barely four weeks before Willie's massive heart attack on November 22nd. We may not understand why but we know God is in control.
The family plans the funeral to be on 23rd December here in Houston TX. The location and time will be announced later. Any support to this family towards the burial arrangement and the children fund to support the four kids secure a bright future is extremely appreciated.
Friends and family are meeting daily @ Mama Lydia Indimuli's residence 10818 Burkes Garden Dr, Houston TX 77065. From 7:30pm to 9:30 for prayers. Your presence is greatly appreciated.
Contributions can be sent via
☆ Cash app to Lydia Indimuli
*Cash app: $LydiaIndimuli
☆ *Cash app Rosemary Kamau
*Cash app: $Roseshiroh
☆ *Bank deposit*
WellsFargo Bank N.A
Lydia Indimuli
Routing number:580800393
Account number: 1552977132
☆ *Quick pay*
George Shitera
Chase bank
8323408673 or [email protected]
For any additional information kindly contact the following.
Rosemary Kamau 832 762 1377
Christa Atsiaya 832 606 7970
George Shitera_ 832 340 8673
Steve B Osuo_ 832 232 8846
Lydia Indimuli. -832 419 4955
Peggy Chamwada_ 713 382 3195
Benson Shitera – 713 898 7283
Lilian Shitera. – 832 229 9863
Reuben Osuo. – 832 213 8324
Humphrey Opondo 832 677 4091
Eric Mburo 832 286 7934
Aunty Maggie 281 748 2585
Join the WhatsApp group here
https://chat.whatsapp.com/EV5UyiUl5Tu0lE0PLYKY7B
Thank you for standing with kina Ciru na Mama Lydia.