Diaspora Stories: How Anne Kept Her Kenyan Culture Alive In The US
Diaspora Stories: How Anne Kept Her Kenyan Culture Alive In The US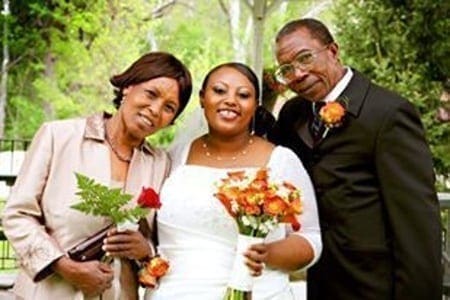 When Anne Harless moved to the United States at 18, she was not able to return to her home in Kenya for more than 20 years.
Her brother and sister also moved to the U.S., and her parents visit as much as they can, making home seem a little bit closer. Anne has also done her best to continue celebrating her home culture and heritage while living in the U.S.
"My family was here, and a lot of my friends. At home weddings are more open, we don't really exclude, so we just say we're getting married on such and such day and everybody is welcome. You don't really have a headcount or anything like that," Anne said. "For my wedding I didn't really have a headcount or an idea of who was coming … whoever made it, made it!"When Anne married her husband, Luke Harless, in 2008, they incorporated both of their cultures into the wedding. They had wedding in a church, played Kenyan music and served homemade Kenyan food at the wedding. Anne said in Kenya the ladies will usually have a dance entrance, which they also did for their wedding.
For Anne, the biggest way she is able to continue celebrating her Kenyan culture is through community and family. When her parents visit, she spends as much time with them as she can, as well as with her brother who lives in Speedway, Indiana, and her sister who lives in New Jersey.
She also keeps up with everything going on at home in Kenya, and will send money back when it's needed. She said the African community will often fundraise for various needs.
"That's always been a way the African community raises money, so we fundraise every little thing. They will call if there's an occasion, so if there's somebody that's sick, somebody that needs to go to the hospital, somebody that needs to be buried, somebody that needs to get married, we will fundraise regardless of where we are," Anne said.
Another way she remains connected to both her culture and her family is through naming. Naming children after other family members in her culture is a tradition, and is held throughout her family.
"My sister has her two boys, they're both named after grandparents; one is named after my dad, one is named after the dad's dad, my son is named after my father, and my brothers of course are named after my grandparents," Anne said.
Her son Allen's middle name is Kariuki after her father, and her middle name is Wanjiru after her grandmother. Last names will usually stem from being named after someone as well.
She also tries to maintain a sense of community outside of family in the U.S.
"There's a big community in Indy actually, and Fort Wayne area. There's a really, really big community, people from my part of the country in Boston — relatives, people that know my parents from a long time ago," Anne said. "There's also another big community in Dallas, so … when people immigrate they tend to bunch up to areas where there's people that they know."
To celebrate Kenya, Anne's family and household will also still play African music.
"Music is inbred, it's just a language that everybody can relate to. … My son will still sing, regardless of whatever language he's singing in, so we still sing regardless," Anne said.
Her 8-year-old son Allen knows a little bit of Swahili. She said her region's dialect of Kikuyu is more difficult to learn, but if her son can speak at least a little bit of Swahili and Kikuyu, she's happy.
As for raising her son in a culture she did not grow up in, Anne said it has been difficult, especially lately.
"It's tough. Especially right now with all the racial undertones, is our biggest challenge right now. He's just starting to realize he's different, but he still doesn't quite get where he is. Because he's really not totally white, and he's not totally black," Anne said. "We raised him everybody is the same we're just made differently, all have different colors. So you have a little bit of me, and a little bit of daddy. … So he's still trying to figure out his identity."
Anne said her upbringing was very different than the way most black people were raised in the U.S. She did not grow up with racial undertones and didn't really learn much about those undertones until college, so trying to teach her son about these issues and how to respond to these issues has been challenging.
After not being home for over 20 years, both her husband and son were able to visit Kenya with her for their first time last year. They met more of Anne's family and friends and see where she grew up.
For Anne, it was very different to be back after 20 years.
"Things have changed, the city has grown, there's a lot more people that have migrated … the people you have grown up with have moved on, so it's almost like going back to someplace you knew what it looked like but you really don't know," Anne said. "But it still feels like home. When I go out to the countryside where my grandparents were, it's almost like you never left. Those things are still there, are still the same."
Anne also considers both places, the United States and Kenya, to be home for her. Though she said the U.S. frowns on dual citizenship it isn't like that in Kenya. She may be a U.S. citizen, but as soon as she steps foot into the airport in Kenya, she's a Kenyan. They still consider her to be Kenyan.
"Here they want you to renounce your other country when you become an American. But … it's not a reality," Anne said. "You cannot renounce where you came from. Yes, you are loyal to the American flag and all that you are able to do and appreciate that you are here, but home will always be home regardless."
She said she also considers it important to continue remembering and celebrating where she came from, regardless of where she lives.
"Even though this is home for now, I don't think I can ignore or put away where you came from. Because that's part of you," Anne said.
-grantconnected.net
Diaspora Stories: How Anne Kept Her Kenyan Culture Alive In The US