Msambweni MP Suleiman Dori regrets campaigning for NASA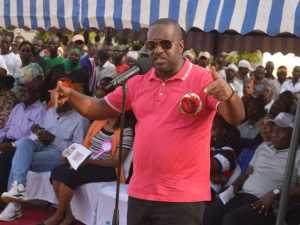 Msambweni MP Suleiman Dori of ODM has said he regrets campaigning for the National Super Alliance in the just ended General Elections.
Dori who is the Coast Parliamentary Group Chairman claimed that although the region voted overwhelmingly for NASA, its leaders and residents have not been treated well within the opposition, especially on sharing of House committee seats.
"I ask you for forgiveness on behalf of Coast MPs. In the last campaigns we led you to NASA. We voted in 27 MPs thus being the majority followed by Nyanza but surprisingly few weeks ago we were shortchanged," said Dori.
The MP was speaking to a crowd that had assembled at his Gasi home during an event on Saturday to award best performing pupils in last year's KCPE.
Other leaders present during the event at the MP's home were MPs Benjamin Tayari (Kinango), Paul Katana (Kaloleni), Kassim Tandaza (Matuga) and Ali Mbogo (Kisauni). They accused NASA leadership of taking Coast region's support for granted.
He singled out leadership positions in the National Assembly and East Africa Legislative Assembly (EALA) as areas where NASA supporters from Coast missed out.
Kisauni MP Ali Mbogo who was elected on a Wiper ticket said they are neither interested in Jubilee nor NASA but in the welfare of their electorate.
"We have buried issues of parties and we will never be ready to be used again…what we are agitating for is Coastal unity," he said.
Mbogo disclosed that about six MPs from Coast have joined Parliamentary committee on land and will be electing Lungalunga MP Khatib Mwashetani as deputy chair to address issues of historical injustices.
Paul Katana who was elected on an ODM ticket noted that the course to unite Coastal people has just started.
This comes at a time when NASA leader Raila Odinga is in Mombasa to meet Coast lawmakers and politicians.