Why Uhuru is taking time to name ministers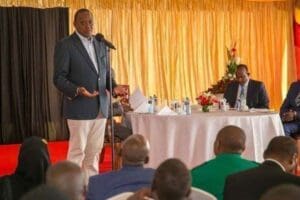 A resolve by President Uhuru Kenyatta to "get it right the first time" in Cabinet appointments has delayed the naming of the 22-member team, the Saturday Nation has established.
The Head of State, according to sources, also wants to plan all major government appointments before naming his Cabinet to satisfy all political promises he made on the campaign trail as he gets into a "legacy-driven" second term.
The delay is also said to be influenced by a need to help Deputy President William Ruto's 2022 succession bid.
But with the advantage of having a Cabinet he had named still in office, and with no legal requirement as to when he needs to name a new one, the President can afford to delay the process, that way giving more space for consultations, and consensus.
TIME
In 2013, it only took him 14 days to name his first Cabinet, and on his 34th day in office, the 16 Cabinet Secretaries were sworn in.
Today, he is 25 days into his second term, and there are no signs that he will name his second Cabinet any time soon.
On Friday, Jubilee Party Secretary-General Raphael Tuju and National Assembly Budget Committee chairperson Kimani Ichung'wa argued that the naming of the new team might take even longer.
"There is absolutely no delay since there is a Cabinet in place, appointed by Uhuru Kenyatta.
"And because it is the sole prerogative of the President to name a Cabinet, unless he wants to re-align his government around the four pillars of his legacy, that is it. He has no time (that he must name a Cabinet)," Mr Ichung'wa, the Kikuyu MP, argued.
REQUIREMENT
The Constitution is silent on when the President needs to name a Cabinet, or if re-elected, when he can fire one from the first term, and name a different one.
"It can even take a year. Whatever time the President decides, it his prerogative," Mr Tuju, who is mentioned as one of those touted for a Cabinet post, claims he has consistently denied, said.
But, it is the avalanche of promises and political deals he made prior to the August 8 election, and to secure a second term in the controversial repeat poll, that makes it necessary to tweak the senior officials.
POLITICS
Sources told the Saturday Nation that the DP wants western Kenya to be given five slots in the Cabinet to counter what he sees as a resurgent Musalia Mudavadi, a possible opponent in 2022.
He is also said to push for two slots for the Coast, and two for Central Kenya, arguing that they already have the presidency.
But, Mr Tuju said Kenyans were just being impatient.
"On this, Kenyans are being either mischievous, impatient, or just idle, and want something. Ministers are just individuals. What matters are the programmes, and those ones are being rolled out," he said.
There seems to be no consistent narrative of who among the CSs might face the axe if that were to happen with the President and his deputy said to have kept it a top secret.
-nation.co.ke