Be flexible in quest, US tells opposition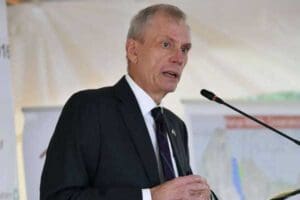 American ambassador Robert Godec has asked the National Super Alliance to be more flexible in its demands for dialogue with President Uhuru Kenyatta, even as its parliamentary leaders insisted that January 30 was the deadline for the talks with Jubilee Party.
In separate meetings with Minority Leaders John Mbadi of the National Assembly and Moses Wetang'ula of the Senate, the ambassador, however, admitted that Jubilee and Nasa had different ideas on what would be discussed in these anticipated meetings.
The two leaders indicated in their briefings to the press after meeting Mr Godec that there was no progress on that front and the opposition would go ahead and activate its options, starting with the planned swearing-in of Mr Raila Odinga as president.
"The ambassador's position is that we need to find another way of addressing this matter because, despite the challenges, elections were held. He has made it clear that he is not for the swearing-in, so you didn't expect him to change his mind," Mr Mbadi said after the meeting in his office.
The American envoy has been in constant communication with both sides, Mr Mbadi said, but had admitted that the two sides had different ideas on the national dialogue.
There is an apparent sense of frustration on the part of the envoy as President Kenyatta has said he is only ready to discuss with the opposition how to strengthen the economy and other things unrelated to elections, which he says are in the past.
On Monday, Mr Wetang'ula also spoke of the opposition's frustrations in pursuing "electoral justice".
He, however, said that Nasa would not bend over backwards for dialogue, on which its rivals were not keen.
"If we stretch out our hands and palms, but our colleagues have clenched their fists, then it's unlikely there will be a handshake. And when there are no such reciprocal behaviour, so to speak, then we as Nasa have clearly outlined what our courses of action are," said Mr Wetang'ula.
-nation.co.k