Jubilee keen on equity, not Alfred Keter's TV noises – Duale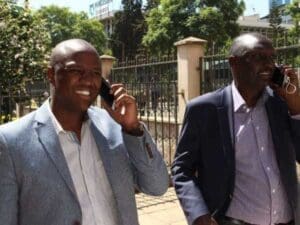 Politician Alfred Keter can run and make noise on TV stations but the die has been cast, National Assembly majority leader Aden Duale has said.
Duale said this on Tuesday after the Nandi Hills MP lost his Labour committee chairman position in a vote of no confidence.
Nominated MP David Ole Sankok moved the motion claiming they did not take into consideration the requirement of regional balance.
Duale defended Jubilee Party legislators in his address to the media on this and other development.
It had been said that the ruling coalition wanted to tame four rebel MPs but Duale, who is in charge of Garissa Town, said their choices were based on equity and inclusiveness.
"I told Keter two days ago that Tuesday was his D-day but he did not listen. He went ahead and assembled with members of parliament who have trade union backgrounds to back him up."
Nominated MP Wilson Sossion, who is Knut secretary general, backed Keter saying there was nothing wrong with him leading the committee.
But Duale took offence saying Sossion did not have the right to speak on Jubilee's affairs.
"I want want to tell Sossion and the rest that the way we run parliament is not the same as running the Teachers Service Commission or trade unions."
The fierce Jubilee defender noted its strict principle of equity, which he said cannot be sacrificed for anybody's ambitions.
"Look at us and see the representation of our part of the house. Compare it to others in parliament. When we were deciding on the men and women who should take the positions it was not based on qualifications," he said.
"I am not more educated than our colleagues but once you come to the house of Jubilee, the principle of equity must be looked into That is what president Uhuru Kenyatta is championing for."
Duale added he will write to speaker Justin Muturi on ensuring with trade unionist backgrounds do not participate in matters that concern them.
"I am going to write to the speaker … that when a matter that concerns these trade unionists arises, they must, as per the standing orders, excuse themselves. They can't take part in any deliberation andthey can't vote."
"No side shows permitted"
The majority leader further noted that the party will not permit side shows from Keter and his counterparts and that Jubilee will maintain discipline.
"We will not allow certain members to disenfranchise our rank and file in Jubilee. In government, we have the principle of equity. In parliament, we have the principle of equity," he said.
Duale reiterated that Jubilee did not do anything unusual.
"This is how a presidential-parliamentary system works. There is nothing wrong that Jubilee Party has done. We have the numbers," he said.
"We told our members that out of the 26-plus committees that Jubilee chairs, we only have a problem with four."
Earlier, Keter said passing a vote of no confidence meant legislators were working with the executive yet parliament should be independent.
Last week, Uhuru summoned four MPs who defied the party's directive to resign from the committees they were elected to head.
The other three were Moiben's Silas Tiren, Marakwet MP David Bowen and Emgwen's Alex Kosgey. They defied a directive by deputy president William Ruto to relinquish the seats they had won, against their party's wishes.
The four have been at loggerheads with Jubilee chiefs in parliament after going against the president's preferences and working their way to committee leadership roles.
Keter said: "I thought names given by the president and DP were suggestions but was surprised to realise they [gave directives].