Social media awash with comedy over Kalonzo Musyoka absence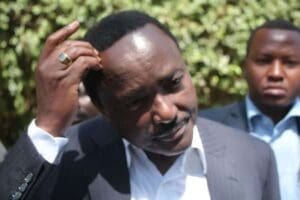 Kenyans on social media found comedy in what was supposed to be a serious and solemn event when opposition leader Raila Odinga took oath as the 'people's president' Tuesday.
Netizens could not help but poke fun at Wiper party leader Kalonzo Musyoka, who was supposed to be sworn in as Raila's deputy but did not show up for the ceremony. Hilarious memes took Twitter by storm as Kenyans tweeted about the day's events.
TRENDING
By 5.30pm, the name Kalonzo was top three on trending topics on Twitter, having been talked about more than 25,000 times on the social media platform.
Nizz @NizzyKE tweeted that, "Kalonzo was the designated survivor," referencing a popular television show. In the series, the lead character played by Kiefer Sutherland, was kept from attending the State of the Union address so that in the event a disaster happened, he would survive.
He ended up taking over as president when all the attendees, including the president, died in an terrorist bombing.
"To Kalonzo, being running mate doesn't mean you literally run away," Timothy Muthomi @timohz, explained.
Sarah Shey @shey_sarah asked, "Apart from Bolt and Kalonzo, which other athletes do you know?"
"Kalonzo Musyoka should not transact any business on behalf of the Kamba community," Ukambani  POLITICS @Ukamba POLITICS advised, alongside a photograph of Mr Musyoka bearing a caveat to the public.
Matubia @ma2bia saw the betrayal coming. He posted that, "Kalonzo Musyoka started sending signs the moment he wore that chameleon themed shirt," over a photo of the politician in a colourful tie and dye shirt.
"When you slept at Uhuru Park for the swearing-in ceremony and then Kalonzo Musyoka goes missing.  And Raila Odinga goes home … to Karen," Ahmed Mohamed @Asmali77 pointed out.
For Mr Musyoka, his previous moniker of watermelon has come back to haunt him as his actions showed that he was not fully committed to the swearing-in.
Sharon @jesang posted, "Kalonzo Musyoka spotted somewhere after avoiding #NASAOathDay," over a photo of a car painted to look like a watermelon: Carlonzo Musyocar.
Sense Cents @Pawleecarp had the answer as to why Mr Musyoka was absent for his oath-taking. "A rare picture of why Kalonzo didn't make it for #NASAOathDay," was posted alongside a photo of destroyed watermelons on a road. The caption on the photo read, "A lorry carrying Kalonzo overturns along Matuu-Mwingi road."
Antonio @Tonie_Ke also took a photo of watermelons and tweeted, "A rare photo of Kalonzo and his entire supporters at Uhuru Park today."
-nation.co.ke