Uhuru should not dialogue with Raila who ran from rerun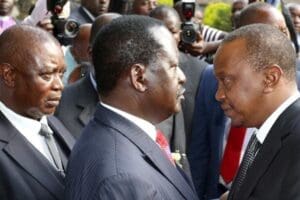 The political environment in 2018 will depend on the government, with President Uhuru Kenyatta the number one politician.
It will depend on how he steers the country to prosperity. Uhuru has promised to improve lives of those who voted for him and for those who did not. If he keeps his promise, this will lessen tension.
What I am looking for as a Kenyan is a promising state of economy for all. A lot of our politics, whether right or wrong, is largely informed by the state of hopelessness among many Kenyans.
As the head of government, Uhuru can trigger various political, economic and social reactions. How he will implement his agenda matters a lot.
Why should Uhuru dialogue with NASA leader Raila Odinga and not Ekuru Aukot or Abduba Dida or Prof Michael Wainaina? What is so special with Raila that Uhuru must dialogue with him?
The guy abandoned the presidential rerun. We need to remove some people's nonsense of entitlement. I expect Uhuru's administration to fix Kenyans' problems to isolate these self-appointed people who feel they are entitled.
The NASA leader has no basis on which to dialogue. On what basis does he want to dialogue with the President? If Uhuru accepts dialogue with Raila or any presidential candidate, he will weaken himself. He will be an extremely weak leader.
If Uhuru wants dialogue that can redefine Kenya's political state, let him call on all his worthy competitors, inviting them to discuss how to make Kenya better.
Engaging in dialogue that isolates, fixed on an individual who thinks he is important, will weaken the Jubilee government.
I have always given President Uhuru and his team this free advice on the need to look at Constitution Article 130. In forming the national Executive, it should reflect regional and ethnic diversity.
We have a maximum 22 Cabinet slots. If I were Uhuru, I would pick the 22 CSs from the 22 tribes of Kenya. I would pick the next 22 PSs and another 22 from different tribes.
If Uhuru does that, he will shut up anybody who says his government is not all-inclusive. He should leave the county governments to run their affairs in their tribal way because there is nothing he can change.
The Executive should be a symbol of unity for Kenyans. He must be a father to the nation.