Take oath as Raila's deputy or shut up, ODM leaders tell Kalonzo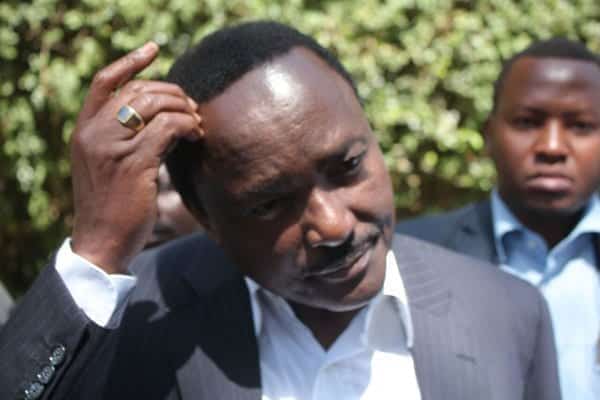 Top Orange Democratic Movement officials yesterday told Wiper leader Kalonzo Musyoka it was up to him whether or not he wants to take the oath as Raila Odinga's deputy.
The ODM officials, also members of Parliament, told Wiper legislators to stop the debate on Kalonzo being sworn in as 'deputy people's president'.
The Raila-led Orange party said it was Kalonzo's right to take the oath or not, adding that it was a personal decision.
ODM Chairman John Mbadi (Suba South), Junet Mohamed (Suna East), James Opiyo (Ugunja), Gladys Wanga (Homa Bay Woman Representative), and the party's secretary general, Edwin Sifuna, said refusal to take the oath would be seen as a betrayal of the supporters of the National Super Alliance (NASA) coalition.
NASA co-principal Kalonzo asked the ODM lawmakers to let the coalition's summit that is composed of Raila Odinga, Musalia Mudavadi, Moses Wetang'ula, and him to deliberate over the 'weighty matter'.
"We have said it several times that this matter is being handled at the summit level. You should also understand that I operate at the level of my colleagues (co-principals), so I cannot respond to what the MPs have said," Kalonzo said on the phone.
Makueni MP Dan Maanzo (Wiper) has sensationally accused ODM of causing disunity in NASA and falling into the trap of Deputy President William Ruto.
"ODM's brigade has used every effort to split NASA. This is a strategy for them to run away from obeying the NASA agreement which stipulates that Kalonzo will be the coalition's flag-bearer. ODM is also angling to work with Ruto in his bid for the presidency in 2022," Maanzo said.
He noted that Wiper was considering the matter (oath) and would act at the appropriate time.
"We need to be told if they are being instructed by Raila to do so, if they are doing this for their personal gain, or if they are working secretly for Jubilee to rock NASA. Once we establish their master, we will act appropriately," Maanzo said.
He warned that if NASA did not remain united, the future for Opposition politics in Kenya would be uncertain.
"Swearing in Kalonzo is a serious matter that is being handled by the principals. You can't force someone to take an oath. We are trying to get a patriotic judge to administer the oath. The principals know that none of them can make it alone. Those dividing NASA are keen on enslaving Kenya for decades to come," Maanzo said.
He said although Raila had taken the oath as 'people's 'resident', others should not be crucified for skipping the event but rather should focus on rebuilding a formidable coalition to take on their opponents in 2022.
"I would encourage any person in the coalition to help rebuild the coalition instead of crucifying the others. Raila did well to be sworn in as 'people's president' but others should not be vilified. We must push for electoral reforms," said Maanzo.
Wanga said the Wiper leader had promised his backers that he would be sworn in and failing to do so would be perceived as betrayal.
Restoring trust
"Taking the oath will only restore the trust the people had in him. Failing to do so is betrayal of the same people he had consistently told he would take oath. It's up to him to decide," said Wanga.
She added that Kalonzo still had time to restore the confidence his backers had in him.
Ford Kenya Deputy party leader Boni Khalwale shared similar sentiments but clarified that the NASA ticket was only open to Kalonzo, Musalia, and Wetang'ula.
"The NASA coalition agreement expressly excludes ODM from the 2022 presidential race, leaving it open only to Ford Kenya, ANC, and Wiper. Raila Odinga, be a statesman and avoid any push and shove for you to renege on the NASA contract, " the former Kakamega senator said.
Junet Mohamed, also the party's director of campaigns, said it was fine if taking the oath would not add value to Kalonzo politically.
"We must respect Kalonzo's wish not to take the oath. It's his personal decision but if taking oath will not add political value to him, I'm 100 per cent sure it will do for Raila," he said.
During a meeting at the weekend, Wiper party bigwigs ruled out the possibility of NASA co-principal Kalonzo being sworn in.
The leaders told Kalonzo it was pointless for him to take the oath as it had no political value and instead asked him to revamp the party in readiness for the 2022 election.
"Why would you be sworn in just for the sake of it and yet you will not bring home any State power that can help your supporters after the event?" former Cabinet minister Titus Mbathi told Kalonzo.
But Mbadi called on all NASA leaders to focus on the huge public debt, which he said if not checked would plunge the country into economic crisis, instead of debating who should take the oath or not.
He said the debate about the oath was a diversionary tactic by Jubilee operatives on the issues and challenges facing the country.
"We wanted Raila to take the oath as 'people's president' and he did. So whoever wants to take oath is free but we are not preoccupied by that. We have more pressing issues such as the arrogance of Jubilee borrowing. The issue of oath is unimportant," said Mbadi.
Sifuna said the issue of the 'swearing-in' was already done and dispensed with and anybody trying to reopen the debate was an enemy of Kenyans. He urged leaders to channel their energy towards the fight for electoral justice and fixing the issue of the public debt.
Take oath as Raila's deputy or shut up, ODM leaders tell Kalonzo