Former President Moi is not dead, foreign affairs says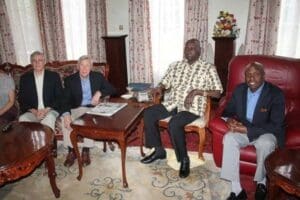 Retired President Daniel Arap Moi is not dead, Foreign Affairs ministry has said.
A blog circulating on social media on Wednesday indicated that Moi had died.
Moi was flown to Israel for knee treatment on Sunday.
"Fake news maliciously circulated regarding the well-being of Moi is completely untrue and ill-intentioned rumour peddled," the ministry said in a statement.
The ministry said Moi is in Tel-Aviv, Israel, for a routine medical checkup that has been very successful.
"He is recuperating well and is in very good health. He will be sightseeing today and he takes this opportunity to wish all his fellow Kenyans well," it noted.
Moi's spokesman Lee Njiru said he was to receive treatment on his knee, "which has been troubling him for some time".
The 93-year-old was admitted to a hospital in Tel Aviv and will turn 94 on September 2.
On January 27 last year, Moi underwent a minor surgery on his knee at the Aga Khan University Hospital in Nairobi.
The problem began on July 30, 2006, after his Range Rover collided with a pick-up truck at the Rukuma Viewpoint in Limuru.
Moi ruled Kenya for 24 years after taking over from first President Jomo Kenyatta in 1978.
He handed over power to former President Mwai Kibaki in 2002 after Independence party Kanu lost the election to Narc.