Sonko picks PLO Lumumba to head team auditing bills worth Sh58bn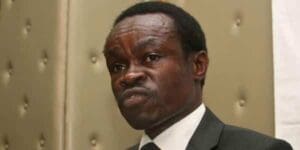 Nairobi County Governor Mike Sonko has moved to deal with the Sh58 billion claims demanded by contractors from his government.
This follows gazettement of the Committee on the Finalisation of Pending Bills and Audit of Procurement Processes that will be headed by veteran lawyer and former anti-graft tsar PLO Lumumba.
The committee, whose lifespan is one year, has been given one month to scrutinise all pending bills and present an interim report to the governor on the way forward.
Following the notice, Governor Sonko said every contractor has 21 days to submit their claims for goods and services rendered to the previous administration to the committee within the next 21 days for action.
The committee's mandate also involves looking into the entire procurement processes and recommending measures to be taken to make the processes fool-proof to avoid ballooning of unpaid bills.
"Within (1) one month, after scrutiny and analysis of the County Government's stock of pending bills, (or such longer period that the Governor may authorise), the committee shall submit to the Governor a report recommending to the Treasury settlement or otherwise of the pending bills," it said.
"The committee shall within the next one year submit their final report detailing a system geared towards ensuring that future escalation of pending bills within the County Government is avoided and on the streamlining of the procurement processes within the County Government."
The move comes hardly a month after the county government urged the High Court to grant it six months to sort out the pending bills mess.
Numerous cases filed before court have seen creditors seek attachment orders for county government properties, as well as arrest orders for some county officials including the chief finance officer and acting county secretary Leboo ole Morinta.
Others in the committee are former Law Society of Kenya chairman Erick Mutua and Mr Martin Wamae, who will serve as co-chairs. Supreme Council of Muslims Executive officer Yusuf Murabwa, Mr David Kangara, lawyer Timothy Naeku, Kariobangi South MCA Robert Mbatia, Nairobi County Assembly's Public Accounts Committee chairman Wilfred Odalo, Mr Maurice Juma and Reverend Charles Chege are members.
The governor said all fictitious claims will be dealt with decisively by the law enforcement agencies.
A payments' priority list of all cleared payments will also be prepared where creditors will be treated equally with the committee advised to ensure count government operations do not stall.
-nation.co.ke