Interior PS Kibicho, Sonko clash over Ruto's 2022 bid
Interior PS Kibicho, Sonko clash over Ruto's 2022 bid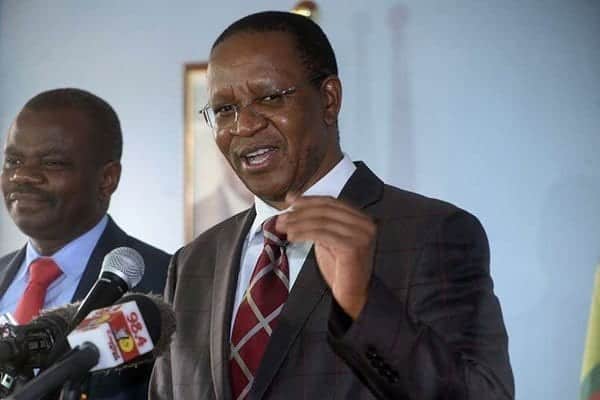 Interior Principal Secretary Karanja Kibicho yesterday clashed sharply with Nairobi Governor Mike Sonko after the latter accused him of holding night meetings to plot against Deputy President William Ruto's 2022 presidential bid.
Sonko fired the first salvo in the morning during an interview with Kameme FM, accusing Kibicho of ganging up with some three unnamed senior civil servants against Ruto's ambitions.
He alleged that four top officials in President Uhuru Kenyatta's administration have been claiming that the Kikuyu community will not support Ruto at the next General Election but did not disclose how he had come to know of it.
Yesterday, Kibicho, who is in charge of the intelligence and security portfolio headed by CS Fred Matiang'i, denied attending or organising any night meetings to derail Ruto's presidential bid.
"We don't do night meetings and if we did, I would tell you. Nobody is trying to fight the DP but there is a cartel of people who always act like they are his protectors. I run the intelligence of this country and there are no such meetings," said Kibicho.
"For now I can only name two, Kibicho and Nancy Gitau. There are two others who I will name later," Sonko told the Star last evening.
Kibicho dismissed Sonko's allegations and advised the governor "to concentrate on cleaning up Nairobi".
"Tell Sonko to man up and address the people he wants to address but not through me. He should address that person directly because that's what men do. I am not a politician and neither would I be politicking around the DP," Kibicho said angrily.
Kibicho claimed that his differences with the City County boss started when he stopped the former from flying two flags on his official vehicle recently.
"Our problems started when he tried to fly two flags like the President and because I am the Interior PS, I am responsible for making him remove the flags."
"When you are drowning, you hold on to everything including straws. Tell him to leave Kibicho alone and start cleaning Nairobi," he said.
DEPUTY GOVERNOR
Sonko also accused Kibicho of "dictating to him" whom he should nominate as the next deputy governor of Nairobi.
"These are the same people who want to control Nairobi but they should know that I only take orders from the President and his deputy. I want a technocrat, professional and an elite person to deputise me, but not the one that Karanja Kibicho wants," the governor said.
Sonko was ostensibly enraged by interference in the choice of his deputy.
"PS is a very junior official who does not have the right to threaten me. I was elected by the people of Nairobi but not by a PS. I won't allow intimidation just because you are PS of internal security. My deputy should come from the Kikuyu community but let me choose whom I want."
He alleged that "four powerful civil servants" tried to bar him from vying for the gubernatorial seat.
But Kibicho, in a quick rejoinder, rebutted the claims, saying he had never meddled with Nairobi gubernatorial politics.
"I am a small man and he rightfully said so. Why would I choose a deputy governor for Sonko? I cannot discuss such an issue with him. I am a voter in Kirinyaga and only interested in Governor Anne Waiguru," Kibicho said.
The PS further distanced himself from allegations raised by the governor that he has been tracking the tax records of his (Sonko's) wife.
"I don't even know the name of his wife, what she does and how she looks like. I don't know how I would be targeting a person whom I don't know. I have never in my life met Sonko one-on-one. In 48 Laws of Power, if you don't have a powerful enemy, create one," he said.
Two weeks ago, Sonko claimed during a church service attended by Ruto in Kiambu that senior leaders from Central Kenya were holding night meetings to plot against Ruto.
DO YOUR JOB
Sonko, however, said he was not castigating the entire Kikuyu community but the "powerful government officials" who have shifted gear to 2022 presidential polls.
"My fight is not against people from Mt Kenya but some four civil servants who are not doing the job that they are supposed to do," he said.
This is not the first time Gitau has been accused of going against Ruto.
During the ICC trial, on June 20, 2014, Ruto's defence team claimed that Gitau, then President Mwai Kibaki's adviser on political affairs, and then Interior PS Mutea Iringo, had recruited witnesses to fix the DP.
It was claimed that the two recruited and funded witnesses who were to testify against Ruto and the Orange Democratic Movement party at the Commission of Inquiry into the Post-Election Violence led by Justice Philip Waki, and eventually at the International Criminal Court.
During cross examination of ICC witness P-0613, Ruto's lawyer Shyamala Alagendra said there were systematic plans by powerful men in government to fix the DP in connection with the post-election violence.
Other people alleged to have tampered with witnesses and evidence-gathering were former Justice minister and presidential candidate Martha Karua, former MP Stephen Tarus, human rights activists Maina Kiai and David Koross and PNU activist in Rift Valley William Rono.
Alagendra said that Iringo and Gitau "gave money to the ICC witness protection programme," but the witness said she was not aware and thought the money came from the Kenya National Commission for Human Rights.
During the last election, Gitau was recalled to help run President Uhuru's re-election campaign.
The Star was unable to get Gitau's response to Sonko's allegations by press time last evening. She did not return calls made to her mobile phone.
SUPPORT
Kirinyaga Woman Representative Wangui Ngirici told the Star that Mt Kenya region is in full support of Ruto's presidential bid, but trashed claims that some civil servants in the region were against his candidature.
"Ruto is our sure bet for 2022 and we will elect him overwhelmingly. I have not heard any civil servant in Kirinyaga talking about 2022 succession politics," Ngirici said.
Late last month, Sonko accused unnamed Mt Kenya leaders of holding night meetings to shortchange Ruto in the 2022 polls.
"We are aware of night meetings done here by high-profile people in top offices with this aim," he said without elaborating.
"Both my first wives and children are from the Kikuyu community and I know that they are good people. These people are trying to spoil their good name."
He asked the Mt Kenya community to reject any scheme to frustrate Ruto's State House race.
Recently, Nyeri Town MP Ngunjiri Wambugu and his Mathira counterpart Rigathi Gachagua scoffed at Sonko's remarks but differed on whether Ruto had a guarantee of the region's support, saying it was too early.
"Nobody knows what will happen between now and 2022. We are just from another election and leaders from the region making pledges to Mr Ruto are lying," Wambugu said.
He said Sonko had no authority to meddle with Mt Kenya politics and strive to create cracks within Jubilee.
Gachagua said Ruto will automatically get votes from the region in the next polls.
Interior PS Kibicho, Sonko clash over Ruto's 2022 bid