VIDEO: Brave Kenyan man stops MPs car from overlapping

VIDEO: Brave Kenyan man stops MPs car from overlapping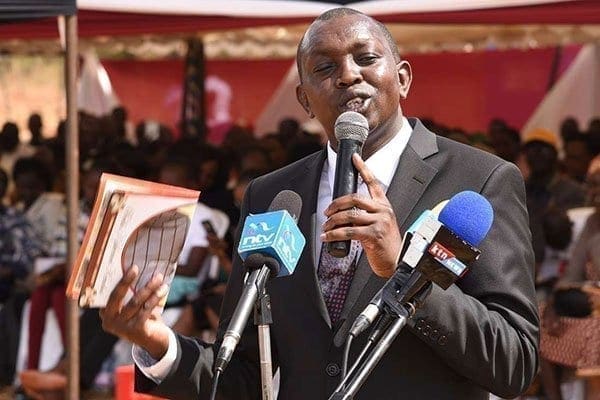 A brave Kenyan stood in front of an MP's vehicle in Nairobi on Monday, to stop the driver from overlapping while in traffic.
The man identified as David Lemayian was seen standing in front of a black Mercedes, registration number KCC 600P.
In a video shared by activist Boniface Mwangi in the evening, Lemayian stays put, dressed in blue jeans, a striped yellow shirt and a satchel bag.
He then appears to lecture the occupant of the Mercedes about traffic rules while pointing at other motorists who were waiting for clearance.
Some took photos and videos of him.
The National Transport and Safety Authority web portal indicates that the owner of the vehicle is Kapseret MP Oscar Sudi.
It was not clear whether the MP was in the vehicle at the time of the obstruction.
Lemayian's move elicited mixed reactions, Mwangi saying Kenyans should take after him.
On his Twitter page, Lemayian wrote: "Arrived to Twitter to a lot of love. A lot of Kenyans tired of waheshimiwa thinking they can live above the law. This car belonging to a Member of the National Assembly was breaking the law. I would never ask anyone to risk their lives but I am tired too. #ActNOW."
Among those who commented on Lemayian's action was Martin Waigwa. He said Nairobi, where traffic has been a menace partly due to unruly drivers, needs people like him.
"Those are the kind of citizens who give me hope in this society…. I salute you for the sacrifice you made to make sure the law was followed," he said.
"No matter how small the sacrifice … No matter how many people discouraged you and insulted you … I think you are a great citizen worth emulating."
Kuria Wa Muchiri wrote: "I wish I were there. I would have joined the gentleman. This kind of behaviour [overlapping] must be stopped."
Winnie Gathura admired Lemayian's courage and asked Kenyan drivers to stop rushing and assuming every one wastes their time.
"We should all do the same to such idiot drivers,"  he said.
But others said Lemayian would have earned himself more than he bargained for, had he encountered an unruly driver.
"Come try that with Rongai matatus," Roggy Kemoi said.
Emmanuel Kebenei scolded the man for acting without knowing why the driver wanted to overlap. He said Lemayian should have called the police.
Baba Nelly wanted to know what happened next or if that was just an opportunity for good photographs to be taken.
Martin Njihia told Lemayian: "Just so you know, that's not illegal as per traffic laws. It only becomes illegal when he causes an obstruction for oncoming traffic."
One Bsc Davido added: "Overtaking is allowed by the law."
In 2016, traffic police officers had been instructed to arrest and charge government officials found flouting traffic rules.
This followed complaints by members of the public about the driving of their vehicles.
Officers at the police headquarters said they had received complaints about government-owned vehicles overlapping and causing accidents.