VIDEO: President Kenyatta arrives at his hotel in Washington DC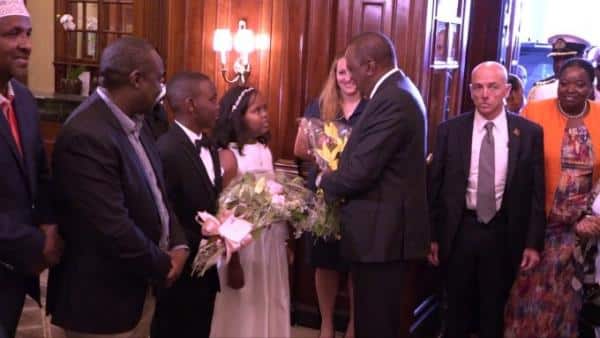 Kenya's President Uhuru Kenyatta on Saturday evening arrived in Washington DC in readiness for his meeting with President Donald Trump at the White House on Monday.
By bmjmureithi
Uhuru Arrives In Italy, To Deliver Landmark Speech At G7 Summit
President Uhuru Kenyatta has arrived in Taormina Italy for the G7 Summit, which got underway Friday.
President Kenyatta who is accompanied by First Lady Margaret Kenyatta landed at the Sigonella (Military) Airbase, in Sicily mid-afternoon.
He then flew by helicopter to the Hotel Villa Sant Andrea where he is staying, arriving shortly before 4pm local time.
He is expected to deliver a speech to the 43rd G7 Summit on its final day Saturday morning.
Ahead of the summit, President Kenyatta said Kenya had paid its dues on the global stage and as the next chapter of Kenya's story begins, "the world must hear our voice."
"I want to see Kenya take it rightful place on the world stage, feeding into the multinational trade mosaic that has always been part of our fabric," President Kenyatta said in an opinion piece.
He said he had spearheaded greater regional and Pan-African cooperation as a basis for strengthening Africa's prosperity for the benefit of over 150 million East Africans.
"We are working hard to cement our strategic position at the heart of global trade, underscored by enduring peace and democracy, to provide the right conditions for foreign investment. Only by opening up developing nations to the possibilities presented by markets around the world, can we elevate Africa to a status of equity with international partners."
Source link-capitalfm.co.ke
VIDEO: President Kenyatta arrives at his hotel in Washington DC