Kenyans Split On Relations With United States and China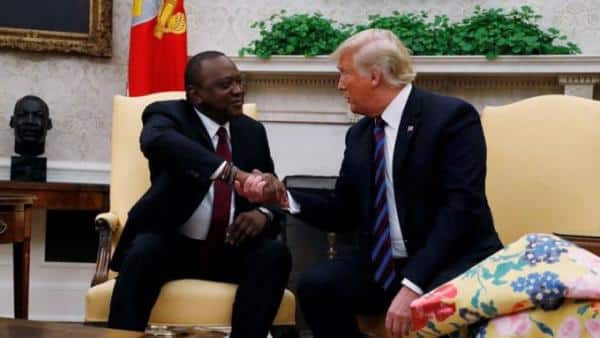 The US and China rank top of other countries as the leading preferred economic partners of Kenya. This is according to a 2018 research study conducted by IPSOS Synovate which was released on Wednesday.
The study which was conducted from July 25 to August 2, 2018 entailed sampling responses from 2,016 interviews drawn from 46 counties.
Despite the recent China-Africa Summit where China President Xi Jinping promised Africans Sh6Trilion worth of investment, many Kenyans are opposed to the idea of embracing China.
As per the study, 35 per cent of respondents felt that USA is the best country to relate with Kenya, while 25 per cent of the respondents favoured China. By May 2018, two months before the research was conducted, China stood a better chance against USA where 34 per cent supported the Kenya-China economic partnership and USA got 26 per cent backing.
The respondents tallying along mixed political affiliations, China remains a threat to Kenya's economic progress; with 26 percent of respondents disapproving her. USA comes second with 12 percent of respondents viewing her as Kenyan economic threat with Germany third at 2 percent.
Most Kenyans fear Chinese investment because of the feeling that they have drastic negative results where job losses are witnessed.
Income demographics
According to the IPSOS Synovate research released on Wednesday, the main source of household income among Kenyans is self-employment.
42 per cent of Kenyans earn their money through self-employment, 19 per cent through agriculture, 16 per cent through the private sector while 7 per cent of Kenyans pride their income from the public sector.
Of the 2,016 participants interviewed, results showed that 45 percent of those were self-employed, this stemming from a majority who sell agricultural produce or own either kiosks that sell foodstuffs or just general shops.
Only 10 of 16% of Kenyans who earn their livelihoods from the private sector are actual business owners according to the Ipsos' research.
The research with a + or -2 margin of error shows at least 12 per cent of Kenyans are unemployed.
It also placed the total wage employment at 17 per cent meaning at least the said percentage of Kenyans get paid either by wage(daily or weekly) or salary.