VIDEO: Governor Obado's bodyguard arrested in Nairobi
VIDEO: Governor Obado's bodyguard arrested in Nairobi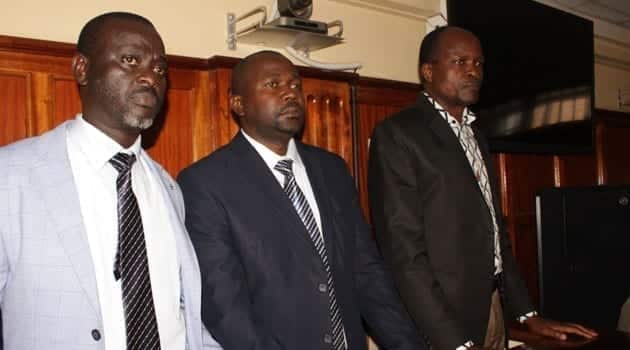 Detectives from the Ethics and Anti-Corruption Commission (EACC) on Monday arrested a bodyguard of Migori Governor Okoth Obado for allegedly using documents belonging to someone else to secure employment as a police officer.
Mwita Moses Mogaya alias John Chacha, who is an Administration Police officer working in Migori County, was arrested at a hotel near the Milimani Law Courts.
According to EACC, Mogaya used academic certificates belonging to another public officer identified as John Chacha Nyamohanga to secure employment two years ago.
"EACC received a complaint, conducted investigations and established that the subject used certificates belonging to one John Chacha Nyamohanga to get entry to the Administration Police Service in 2006," said EACC in a statement.
He is set to be arraigned at the Milimani Law Courts to face charges of personation contrary to Section 384 of the Penal Code.
A video capturing the dramatic arrest, shows Mr. Mogaya being approached by four men, three of them clad in suits and ties.
Oblivious of the impeding arrest, Mr. Mogaya who was at the hotel to have breakfast, shakes hands with two of the men before one of them unleashes a pair of handcuffs and puts him under arrest.
One of the detectives then seizes the bodyguard's pistol before he is whisked away and led into a waiting vehicle that speeds off.
According to Citizen TV reporter Hassan Mugambi, Mr. Mogaya, who is a close confidant to the governor, was taken in for interrogation.
The bodyguard was at the Milimani Law Courts to attend the arraignment of his boss Governor Obado who is set to be charged with aiding and abetting the murder of Sharon Otieno.
Mr. Mogaya had gone to the hotel to have breakfast after it emerged that the court proceedings would begin at 11am and not at 9am as earlier expected.
VIDEO: Governor Obado's bodyguard arrested in Nairobi.