'Missing' South Sudanese tycoon Lual Malong' Jr detained by spy agency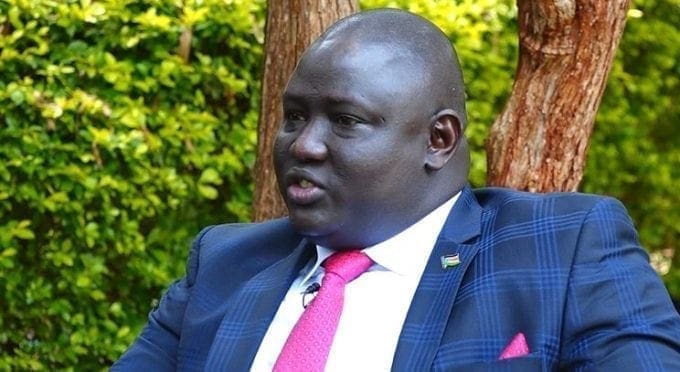 Controversial South Sudan tycoon Lawrence Lual Malong' Yor Jnr is in the custody of Ugandan spy agency the Internal Security Organization (ISO.)
This comes after reports emerged last week that the self-proclaimed billionaire had gone missing from his hotel room in Kampala.
According to Ugandan media outlets, ISO Director General Kaka Bagyenda on Friday confirmed that Mr. Yor was under their custody and assisting in investigations.
"Malong Junior is being held as a person of interest in the ongoing investigations and I can confirm that indeed we have him. In due time you will be informed of the charges against him," Mr. Bagyenda was quoted by Ugandan press New Vision.
Reports further indicate that Mr. Yor could have been arrested over alleged criminal activities such as counterfeit gold scams.
The 'Young Tycoon,' as he likes to call himself, was reportedly picked up from his hotel room by people in military wear who arrived in two vehicles last week.
Kampala Metropolitan Police spokesperson Luke Owoyesigyire as well as Brigadier Richard Karemire, the spokesperson of the Uganda People's Defence Force both previously denied claims of Mr. Yor being in their custody.
Mr. Yor first came to public limelight when he posted a video of himself lying on a bed splattered with $1 million (Ksh.100 million) which he claimed was a donation to charity.
In the now viral video where Mr. Yor referred to himself as one of 'Africa's youngest billionaires', he also alleged to have previously donated $5 million (Ksh.500 million) to the Kenya Red Cross and the South Sudan Red Cross, adding that he had made other million-dollar donations to churches in Juba and Nairobi.
When questioned about the source of his immense wealth in an exclusive interview with Citizen TV's Jeff Koinange last month, a seemingly cagey Mr. Yor said "I got my wealth from my Lord Jesus Christ."